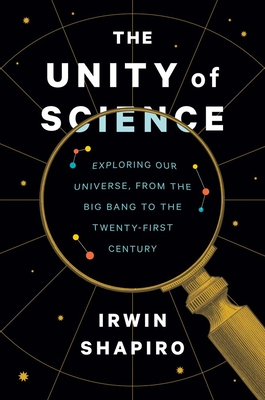 The Unity of Science: Exploring Our Universe, from the Big Bang to the Twenty-First Century
Publication Date:
October 31st, 2023
Publisher:
Yale University Press
The MIT Press Bookstore
3 on hand, as of Dec 8 10:45am
(GS)
On Our Shelves Now
Description
A journey guided by science that explores the universe, the earth, and the story of life
 
For Irwin Shapiro, science starts with questions. This book provides a broad and entertaining survey of major scientific discoveries that have changed our views of nature and, in turn, spawned further questions.
 
Shapiro, an award-winning scientist and beloved teacher, separates his inquiry into three parts: looking up at the universe; looking down at the earth and its fossils; and looking in at the story of life. His framework encourages readers to view science as a detective story—to observe and question nature and natural phenomena, and to base all conclusions on scientific evidence.
 
With his knowledgeable yet conversational approach, Shapiro offers an enjoyable way for the curious to learn about the foundations of a range of scientific topics: the motions of bodies in the cosmos, the history and structure of the earth, the evolution of organisms, and the search for extraterrestrial life and intelligence.
Praise for The Unity of Science: Exploring Our Universe, from the Big Bang to the Twenty-First Century
"Have you ever thought, I regret I never took any science courses when I was in school? If so, this could be the book for you. It explores select topics in science, but, even more importantly, also explains how scientists made their discoveries (or might have)—years ago and sometimes more recently. Written by a professor who clearly loves learning and teaching and who isn't afraid to venture into areas beyond his expertise, this is a fun and informative work just might be your gateway to learning more about the world."—Lisa Randall, author of Dark Matter and Dinosaurs: The Astounding Interconnectedness of the Universe
"This delightful 'short survey of science' concludes with the author's hope that readers find it 'both fun and enlightening.' I certainly did, but even more will my ten grandchildren."—Sheldon Lee Glashow, Nobel laureate and author of The Charm of Physics
"A grand tour of science, showing how various disciplines have unified together to illuminate the workings of the universe, earth, and life."—Stephen Brusatte, author of The Rise and Fall of the Dinosaurs and The Rise and Reign of the Mammals
"With Professor Shapiro as your guide, each page of The Unity of Science imparts knowledge with clarity and enthusiasm, making you feel as though you're personally immersed in an engaging lecture."—Sara Seager, author of The Smallest Lights in the Universe
"In a knowledgeable but vernacular voice, Irwin Shapiro provides a bird's eye view of the scientific elements that explain how our world started and evolved, and how we came to be."—Margaret Galland Kivelson, University of California, Los Angeles, and University of Michigan
 
"An inspiring vision of science as a seamless whole, with no boundaries between dinosaurs, DNA, and dark matter. Written by a renowned astrophysicist in a humble style that will appeal to science lovers and science lovers-to-be."—Joshua Winn, author of The Little Book of Exoplanets
 
"This is a marvelous book that highlights the value of a liberal education, written by a scholar highly respected for his multi-decade pioneering research in physics and astronomy."—Frank H. Shu, author of The Physical Universe: An Introduction to Astronomy