Discounted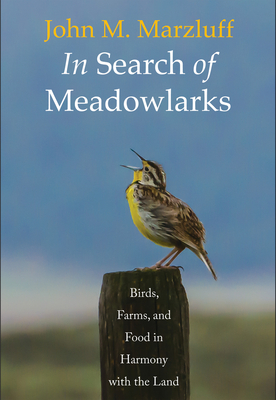 In Search of Meadowlarks: Birds, Farms, and Food in Harmony with the Land
Previous price:

$30.00
Current price:

$28.00
Publication Date:
February 18th, 2020
Publisher:
Yale University Press
The MIT Press Bookstore
2 on hand, as of Nov 30 10:32am
(NATUR)
On Our Shelves Now
Description
An ornithologist's personal look at farming practices that finds practical solutions for sustainable food production compatible with bird and wildlife conservation
 
With predictions of a human population of more than nine billion by the middle of this century and eleven billion by 2100, we stand at a crossroads in our agricultural evolution. In this clear and engaging yet scientifically rigorous book, wildlife biologist John M. Marzluff takes a personal approach to sustainable agriculture. He travels to farms and ranches across North and Central America, including a Nebraska corn and soybean farm, California vineyards, cattle ranches in Montana, and small sustainable farms in Costa Rica, to understand the unique challenges and solutions to sustainable food production.
 
Agriculture and wildlife can coexist, Marzluff argues, if farmers are justly rewarded for conservation; if future technological advancements increase food production and reduce food waste; and if consumers cut back on meat consumption. Beginning with a look backward at our evolutionary history and concluding with practical solutions for change that will benefit farmers and ranchers, he provides an accessible and insightful study for the ecologically minded citizen, farmer, rancher, or conservationist.
Praise for In Search of Meadowlarks: Birds, Farms, and Food in Harmony with the Land
"Excellent . . . a rare offering on the subject of agriculture and sustainability within the farming industry. . . . Highly recommended for all interested in agriculture, ranching, natural history, conservation, sustainability, and ecology."—Library Journal
"[Marzluff's] latest book takes us . . . to rural areas where farmers are attempting to live in harmony with wildlife. The focus this time is on the humans, not the birds, spotlighting the successes and limitations of sustainable agriculture."—Laurence A. Marschall, Natural History
"Evidence-based, accessible, and remarkably eloquent throughout. . . . Equally intriguing to farmers, ranchers, birders, and naturalists. . . . Should be on the shelf of every ornithologist seeking innovative ways to sustain bird communities and to feed the next generation of people in a rapidly changing world."—Liba Pejchar, Ornithological Applications
"Marzluff highlights a path to a more viable, sustainable future of farming. . . . Highly recommended. All readers."—Choice
Choice Outstanding Academic Titles, 2020
"An eloquent, science-based perspective on how meadowlarks and cows, owls and vineyards, and other wildlife and agricultural practices can co-exist and provide abundant and healthy food. A must-read for everyone."—Bernd Heinrich, author of The Snoring Bird
"John Marzluff has followed meadowlarks to find inspiring stories of renewal and hope, and through them we can find our way forward."—Curt Meine, author of Aldo Leopold: His Life and Work
"John Marzluff's book is well-written, thoughtful, and timely, especially when biodiversity is in drastic decline."—Alexis Racelis, University of Texas, Rio Grande Valley
 
"John Marzluff's In Search of Meadowlarks is an epic look at the deep connections between us, the birds we love best, and our food supply. It's a rich tapestry of meadowlarks and farmers, crows and cows, science and story. If you love songbirds, enjoy a great read, or eat food, you really need to read this book."—Sy Montgomery, author of Birdology, The Soul of an Octopus, and How to Be a Good Creature
 
"John Marzluff takes us beyond abstract discussions of agriculture and shows how different approaches to farming directly affect families and local communities, as well as economic productivity and biological diversity."—Robert A. Askins, author of Saving the World's Deciduous Forests and Restoring North America's Birds
 
"In Search of Meadowlarks provides great insights into complex issues concerning sustainability and the environment."—Temple Grandin, author of Animals Make Us Human
 
"Ecological detective John Marzluff sifts through clues on farms from Nebraska to Costa Rica to find out why meadowlarks and numerous other bird species are vanishing. The resulting sad but optimistic tale will keep you riveted, and likely lead you to put down that hamburger."—Virginia Morell, author of the best-selling Animal Wise: How We Know Animals Think and Feel
 
"The way farming affects wildlife is one of the most urgent problems facing humanity. John Marzluff has produced a wise, readable and—above all—optimistic look at the issues."—Tim Birkhead, University of Sheffield, author of The Wonderful Mr Willughby: The First True Ornithologist