Discounted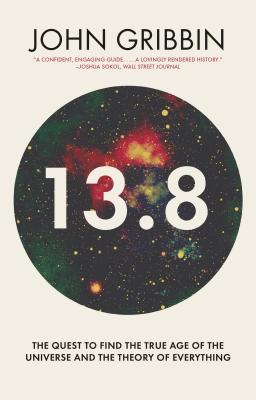 13.8: The Quest to Find the True Age of the Universe and the Theory of Everything
Previous price:

$22.00
Current price:

$20.00
Publication Date:
October 24th, 2017
Publisher:
Yale University Press
The MIT Press Bookstore
2 on hand, as of Nov 29 10:27am
(GS:CO)
On Our Shelves Now
Description
A celebrated astronomer makes a powerful case for the harmony between two of physics' most important and seemingly contradictory theories
The twentieth century gave us two great theories of physics. The general theory of relativity describes the behavior of very large things, and quantum theory the behavior of very small things. In this landmark book, John Gribbin—one of the best-known science writers of the past thirty years—presents his own version of the Holy Grail of physics, the search that has been going on for decades to find a unified "Theory of Everything" that combines these ideas into one mathematical package, a single equation that could be printed on a T-shirt, containing the answer to life, the Universe, and everything. With his inimitable mixture of science, history, and biography, Gribbin shows how—despite skepticism among many physicists—these two great theories are very compatible, and point to a deep truth about the nature of our existence. The answer lies, intriguingly, with the age of the universe: 13.8 billion years.
About the Author
John Gribbin is a visiting fellow in astronomy at the University of Sussex in the United Kingdom and the author of many best-selling science books.
Praise for 13.8: The Quest to Find the True Age of the Universe and the Theory of Everything
"Gribbin is a confident, engaging guide . . . a lovingly rendered history."—Joshua Sokol, Wall Street Journal
"A lively and accessible look at how astronomers determined the age of our universe."—Publishers Weekly (starred review)
"An exciting chronicle of a monumental scientific accomplishment by a scientist who participated in the measuring of the age of the universe."—Kirkus Reviews
"13.8 is a book that hits readers with unrelenting detail. And with a story as grand as this one, that's exactly the way a good science book should have it. Nothing will be lost here, and everything—a clear understanding—will be gained."—David Eicher, Astronomy
"13.8 is a welcome and relatively quick read for cosmology buffs, students, and amateur astronomers."—Booklist
"This well-written book on the history of thought on the age of the universe . . . is engaging and illuminating. . . . Gribbin's account of this remarkable scientific achievement is lucid and accessible to all readers."—Choice