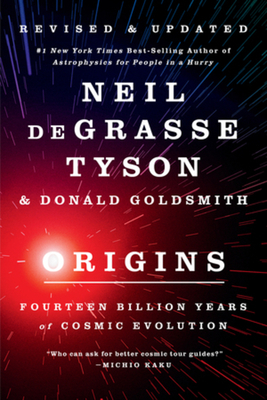 Origins: Fourteen Billion Years of Cosmic Evolution
Publication Date:
September 20th, 2022
Publisher:
W. W. Norton & Company
The MIT Press Bookstore
1 on hand, as of Dec 8 10:45am
(GS:CO)
On Our Shelves Now
Description
"Who can ask for better cosmic tour guides?" —Michio Kaku
Our true origins are not only human, or even terrestrial, but in fact cosmic. Drawing on recent scientific breakthroughs and cross-pollination among geology, biology, astrophysics, and cosmology, Origins illuminates the soul-stirring leaps in our understanding of the cosmos. This revised and updated edition features such startling discoveries as the now more than 5,000 detected exoplanets that promise to reveal exciting possibilities for life in the cosmos, and data from a new generation of ground-based and spaceborne observatories that have fundamentally changed what we know about the expanding universe?and maybe even the laws of physics themselves.
From the first image of a galaxy's birth to tantalizing evidence of water not only on Mars but also on the asteroid Ceres, as well as on moons of Jupiter and Saturn, coauthors Neil deGrasse Tyson and Donald Goldsmith conduct an exhilarating tour of the cosmos with clarity and exuberance.
About the Author
Neil deGrasse Tyson is an astrophysicist with the American Museum of Natural History and the New York Times best-selling author of Astrophysics for People in a Hurry. He lives in New York City.
Donald Goldsmith is an astronomy writer in Berkeley, California.
Praise for Origins: Fourteen Billion Years of Cosmic Evolution
Tyson and Goldsmith search the depths of the universe for clues to how billions of heavenly bodies, Earth, and life itself began. They energetically cover the breadth of modern cosmology.
— Science News
Distilling complex science in clear and lively prose, Origins turns the spotlight on cosmic beginnings and shows how we got where we are today.
— Scientific American Book Club