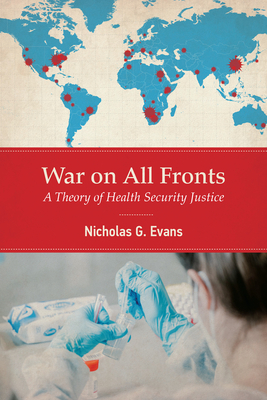 War on All Fronts: A Theory of Health Security Justice
Publication Date:
May 16th, 2023
The MIT Press Bookstore
1 on hand, as of Dec 8 10:45am
(NEWM)
On Our Shelves Now
Description
An argument for the centrality of rights in health security, and how to apply ethical principles to protecting those rights during public health crises.
In recent years, efforts to respond to infectious diseases have been described in terms of national and global security, leading to the formation of the field of "health security." In War on All Fronts, Nicholas G. Evans provides a novel theory of just health security and its relation to the practice of conventional public health. Using COVID-19 as a jumping-off point to examine wider issues, including how the US thinks about and prepares for pandemics, Evans shows the flaws in using the "war metaphor" and how any serious understanding of health security must square with human rights—even when a disease poses a threat to national security.      
Evans asks what ethical principles justify declaring, and taking action during, a public health emergency such as the ongoing COVID-19 pandemic. The relevant principles, he argues, parallel those of the ethics of armed conflict. Just war theory, properly understood, begins with pacifism and a commitment to the right not to be killed and then steps back to ask under what limited conditions it is permissible to kill. In a similar way, a just health security must also begin with the idea that public health should hold human rights sacrosanct and then ask under what limited conditions other concerns might prevail. Evans's overall goal is to formulate a guide to action, particularly as the world deals with the fallout of the COVID-19 pandemic. Turning to the transition from war back to peace in public health, he looks at reparation, rebuilding, and the accountability of actors during the crisis.
About the Author
Nicholas G. Evans is Associate Professor and Chair of the Department of Philosophy at the University of Massachusetts Lowell.