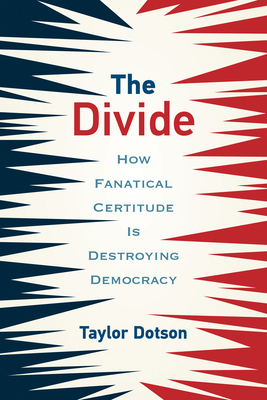 The Divide: How Fanatical Certitude Is Destroying Democracy
Publication Date:
August 3rd, 2021
Special Order - Subject to Availability
Description
Why our obsession with truth--the idea that some undeniable truth will make politics unnecessary--is driving our political polarization.
In The Divide, Taylor Dotson argues provocatively that what drives political polarization is not our disregard for facts in a post-truth era, but rather our obsession with truth. The idea that some undeniable truth will make politics unnecessary, Dotson says, is damaging democracy. We think that appealing to facts, or common sense, or nature, or the market will resolve political disputes. We view our opponents as ignorant, corrupt, or brainwashed. Dotson argues that we don't need to agree with everyone, or force everyone to agree with us; we just need to be civil enough to practice effective politics.
Dotson shows that we are misguided to pine for a lost age of respect for expertise. For one thing, such an age never happened. For another, people cannot be made into ultra-rational Vulcans. Dotson offers a road map to guide both citizens and policy makers in rethinking and refashioning political interactions to be more productive. To avoid the trap of divisive and fanatical certitude, we must stop idealizing expert knowledge and romanticizing common sense. He outlines strategies for making political disputes more productive: admitting uncertainty, sharing experiences, and tolerating and negotiating disagreement. He suggests reforms to political practices and processes, adjustments to media systems, and dramatic changes to schooling, childhood, the workplace, and other institutions. Productive and intelligent politics is not a product of embracing truth, Dotson argues, but of adopting a pluralistic democratic process.
About the Author
Taylor Dotson is Associate Professor of Social Science at New Mexico Institute of Mining and Technology and the author of Technically Together: Reconstructing Community in a Networked World (MIT Press).
Praise for The Divide: How Fanatical Certitude Is Destroying Democracy
"A sharp portrait of our deeply fractured political system...An important demonstration that to thrive—indeed, to survive—our fissured democracy must be far more democratic...his arguments are cogent, his optimism profound."
—Kirkus Reviews, KIRKUS STAR
"Lucid writing, illuminating examples, and a firm point of view make this a refreshing take on contemporary political dysfunctions."
—Publishers Weekly
"A thorough and intellectual analysis...Dotson successfully describes why most proposals to correct gridlock and polarization are flawed by showing how they fail to address underlying causes and even flirt with worsening the situation."
—the Los Angeles Review of Books