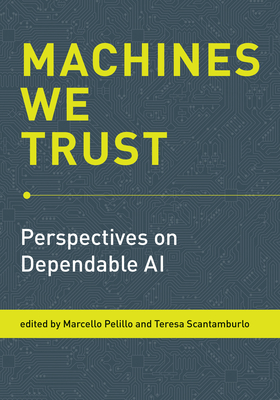 Machines We Trust: Perspectives on Dependable AI
Publication Date:
August 24th, 2021
Special Order - Subject to Availability
Description
Experts from disciplines that range from computer science to philosophy consider the challenges of building AI systems that humans can trust.
Artificial intelligence-based algorithms now marshal an astonishing range of our daily activities, from driving a car ("turn left in 400 yards") to making a purchase ("products recommended for you"). How can we design AI technologies that humans can trust, especially in such areas of application as law enforcement and the recruitment and hiring process? In this volume, experts from a range of disciplines discuss the ethical and social implications of the proliferation of AI systems, considering bias, transparency, and other issues.
The contributors, offering perspectives from computer science, engineering, law, and philosophy, first lay out the terms of the discussion, considering the "ethical debts" of AI systems, the evolution of the AI field, and the problems of trust and trustworthiness in the context of AI. They go on to discuss specific ethical issues and present case studies of such applications as medicine and robotics, inviting us to shift the focus from the perspective of a "human-centered AI" to that of an "AI-decentered humanity." Finally, they consider the future of AI, arguing that, as we move toward a hybrid society of cohabiting humans and machines, AI technologies can become humanity's allies.
About the Author
Marcello Pelillo is Professor of Computer Science at Ca' Foscari University of Venice. Teresa Scantamburlo is a postdoctoral researcher at the European Centre for Living Technology (ECLT), Ca' Foscari University of Venice.