Discounted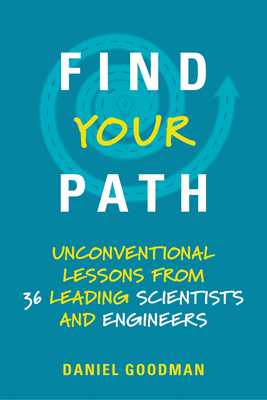 Find Your Path: Unconventional Lessons from 36 Leading Scientists and Engineers
Previous price:

$19.95
Current price:

$10.00
Publication Date:
December 3rd, 2019
The MIT Press Bookstore
28 on hand, as of Nov 30 10:32am
(GS)
On Our Shelves Now
Description
Scientists offer personal accounts of the challenges, struggles, successes, U-turns, and satisfactions encountered in their careers in industry, academia, and government.
This insightful book offers essential life and career lessons for newly minted STEM graduates and those seeking a career change. Thirty-six leading scientists and engineers (including two Nobel Prize winners) describe the challenges, struggles, successes, satisfactions, and U-turns encountered as they established their careers. Readers learn that there are professional possibilities beyond academia, as contributors describe the paths that took them into private industry and government as well as to college and university campuses. They discuss their varying preferences for solitary research or collaborative teamwork; their attempts to achieve work-life balance; and unplanned changes in direction that resulted in a more satisfying career. Women describe confronting overt sexism and institutional gender bias; scientists of color describe the experience of being outsiders in their field.
One scientist moves from startup to startup, enjoying a career of serial challenges; another spends decades at one university; another has worked in academia, industry, and government. Some followed in the footsteps of parents; others were the first in their family to go to college. Many have changed fields, switched subjects, or left established organizations for something new. Taken together, these essays make it clear that there is not one path to a profession in science, but many.
Contributors
Stephon Alexander, Norman Augustine, Wanda Austin, Kimberly Budil, Wendy Cieslak, Jay Davis, Tamara Doering, Stephen D. Fantone, Kathleen Fisher, David Galas, Kathy Gisser, Sandra Glucksmann, Daniel Goodman, Renee Horton, Richard Lethin, Christopher Loose, John Mather, Richard Miles, Paul Nielsen, Michael O'Hanlon, Deirdre Olynick, Jennifer Park, Ellen Pawlikowski, Ethan Perlstein, Richard Post, William Press, Beth Reid, Jennifer Roberts, Jessica Seeliger, David Spergel, Ellen Stofan, Daniel Theobald, Shirley Tilghman, Jami Valentine, Z. Jane Wang, Rainer Weiss
Praise for Find Your Path: Unconventional Lessons from 36 Leading Scientists and Engineers
An absorbing volume.—TIMES HIGHER EDUCATION—
It's the simplicity of the concept and the richness of the monologues that make Find Your Path such an inspiring read. Don't be put off by the title – this isn't one of those trivial airport self-help manuals. It's an important work of required reading for anyone starting on a career at the cutting edge of technology.
—E & T MAGAZINE—