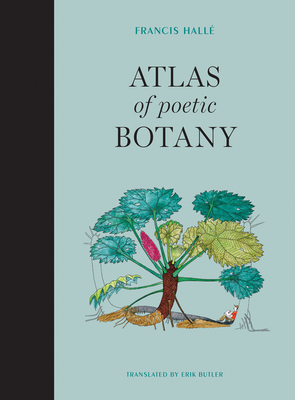 Atlas of Poetic Botany
Publication Date:
November 27th, 2018
The MIT Press Bookstore
2 on hand, as of Dec 7 10:28am
(NATUR)
On Our Shelves Now
Description
Botanical encounters in the rainforest: trees that walk, a leaf as big as an awning, a plant that dances.
This Atlas invites the reader to tour the farthest reaches of the rainforest in search of exotic—poetic—plant life. Guided in these botanical encounters by Francis Hallé, who has spent forty years in pursuit of the strange and beautiful plant specimens of the rainforest, the reader discovers a plant with just one solitary, monumental leaf; an invasive hyacinth; a tree that walks; a parasitic laurel; and a dancing vine. Further explorations reveal the Rafflesia arnoldii, the biggest flower in the world, with a crown of stamens and pistils the color of rotten meat that exude the stench of garbage in the summer sun; underground trees with leaves that form a carpet on the ground above them; and the biggest tree in Africa, which can reach seventy meters (more tha 200 feet) in height, with a four-meter (about 13 feet) diameter. Hallé's drawings, many in color, provide a witty accompaniment.
Like any good tour guide, Hallé tells stories to illustrate his facts. Readers learn about, among other things, Queen Victoria's rubber tree; legends of the moabi tree (for example, that powder from the bark confers invisibility); a flower that absorbs energy from a tree; plants that imitate other plants; a tree that rains; and a fern that clones itself.
Hallé's drawings represent an investment in time that returns a dividend of wonder more satisfying than the ephemeral thrill afforded by the photograph. The Atlas of Poetic Botany allows us to be amazed by forms of life that seem as strange as visitors from another planet.
Praise for Atlas of Poetic Botany
beautifully designed—Literary Review—
The author deserves that his words and drawings gain a large audience.
—Mark Avery's Blog—
Hallé presents his compelling descriptions and memories of some of the more remarkable ones, accompanied by his lovely sketches – far more effective than photographs, he believes, in capturing the reflection and "dialogue" necessary when "one stands face to face with an alien."
—Times Higher Education—
Hallé sets playful stylized drawings explicating the strange behaviours, adaptations and coevolution of each species. It's a vegetal parade that reminds us, yet again, how some chunks of Earth's biosphere still smack of terra incognita.
—Nature—
Its illustrations, drawn by the author, are as fascinating as the text....Hallé's passion for tropical botany is evident. He is fascinated not just by the trees, but by all the life connected to them....Reminded me once again of how important art is to botanical science.
—Herbarium World—
An affectionate look at the options and possibilities plants have developed to adapt and thrive in their jungle world. A fascinating look at the weird and wonderful variations in the plants of the equatorial tropical rain forests.
—BelleWood Gardens News—
His delightful descriptions of the plants — which are written in an entertaining style based on his observations rather than in academic botanical terms — make the book a page-turner.
—Mother Nature Network—
Exotic plant life and botanical adaptations that will delight and enthrall any plant nerds...
—Washington Gardener—
Reading this book, you'll feel as if you've stepped through the wardrobe door into Narnia itself: a landscape with flowers that look like rotten meat and smell like garbage; underground trees; ant gardens where "such symbiosis represents a pinnacle of coevolution between plants and animals." In Hallé's reflections, the plants in this wondrous parade of plants appear at first blush to be plants of aberration. However, nature is much more purposeful than that: the landscape has adapted to them, just as they have adapted to the landscape.
—Orion—
This unconventional but accessible book will appeal to general readers with an interest in botany. Recommended.
—Choice—
The Atlas of Poetic Botany is a book that, like botany itself, invites quiet, meandering contemplation, the appreciation of beauty and, as the pages turn, a sense of wonder.
—Cosmos Magazine—
A delightful read, with charming illustrations that exude the author's passion for botany and discovery.... A lovely addition to any bookshelf.
—Nature Plant—
The Atlas of Poetic Botany is a charming book about tropical plants that most of us will never see in their natural surroundings. It's therefore something of an armchair's botanist's delight, with easy-to-read text and wonderful illustrations.
—Botany One—