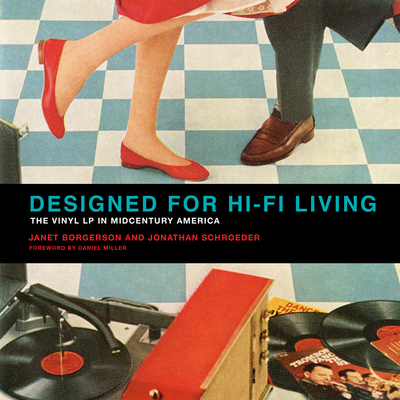 Designed for Hi-Fi Living: The Vinyl LP in Midcentury America
Publication Date:
October 23rd, 2018
The MIT Press Bookstore
2 on hand, as of Nov 30 10:32am
(MUSIC)
On Our Shelves Now
Description
How record albums and their covers delivered mood music, lifestyle advice, global sounds, and travel tips to midcentury Americans who longed to be modern.
The sleek hi-fi console in a well-appointed midcentury American living room might have had a stack of albums by musicians like Frank Sinatra, Elvis Presley, or Patti Page. It was just as likely to have had a selection of LPs from slightly different genres, with such titles as Cocktail Time, Music for a Chinese Dinner at Home, The Perfect Background Music for Your Home Movies, Honeymoon in Hawaii, Strings for a Space Age, or Cairo! The Music of Modern Egypt. The brilliantly hued, full-color cover art might show an ideal listener, an ideal living room, an ideal tourist in an exotic landscape—or even an ideal space traveler. In Designed for Hi-Fi Living, Janet Borgerson and Jonathan Schroeder listen to and look at these vinyl LPs, scouring the cover art and the liner notes, and find that these albums offered a guide for aspirational Americans who yearned to be modern in postwar consumer culture.
Borgerson and Schroeder examine the representations of modern life in a selection of midcentury record albums, discussing nearly 150 vintage album covers, reproduced in color—some featuring modern art or the work of famous designers and photographers. Offering a fascinating glimpse into the postwar imagination, the first part, "Home," explores how the American home entered the frontlines of cold war debates and became an entertainment zone—a place to play music, mix drinks, and impress guests with displays of good taste. The second part, "Away," considers albums featuring music, pictures, and tourist information that prepared Americans for the jet age as well as the space race.
Praise for Designed for Hi-Fi Living: The Vinyl LP in Midcentury America
Before album covers were reduced to tiny icons on smartphones, they were bold, colorful pieces of art, as much cultural indicators as protectors for the records inside.—Wall Street Journal, Alexandra Wolfe—
An excellent example of consumer research subtly linked to political ideologies and shifting consumer attitudes and tastes.
—TIMES HIGHER EDUCATION—
One of the smartest books we've ever seen on album cover art – a lavish full color volume that not only presents loads of classic images, but also has plenty to say about them as well!
—Dusty Groove, Chicago—
Fascinating.
—Print Magazine—
Terrific. Makes a great gift for the music lover who loves midcentury design and travel.
—KCRW Rhythm Planet—
Borgerson and Schroeder contend that midcentury record albums offered compelling visions for incorporating style, home, and travel into mainstream American society. Their book, Designed for Hi-Fi Living, offers a view of this vision, a way to illustrate the role of the vinyl LP in developing contemporary American consumer culture.
—Leonardo—
An eye-opening, colorful, often humorous look back at a time when the vinyl LP was not only becoming a commonplace item in the American home, but also reflected the times we lived in, and our hope for the future.
—PopMatters—
Delve[s] beneath the kitschy album art to explore how this genre of mood music reflected an era of shifting desires.
—Hyperallergic—
A slice of American postwar life.... An indication of how music is visually interpreted.
—Print Magazine—