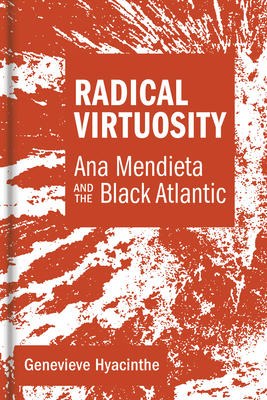 Radical Virtuosity: Ana Mendieta and the Black Atlantic
Publication Date:
October 29th, 2019
The MIT Press Bookstore
1 on hand, as of Dec 5 4:07pm
(ART)
On Our Shelves Now
Description
Reclaiming the artist Ana Mendieta as a formally innovative maker of performative art who forged connections to the marginalized around the world.
The artist Ana Mendieta (1948–1985) is remembered as the creator of powerful works expressing a vibrant and unflinching second-wave feminist sensibility. In Radical Virtuosity, art historian Genevieve Hyacinthe offers a new view of Mendieta, connecting her innovative artwork to the art, cultural aesthetics and concerns, feminisms, and sociopolitical messages of the black Atlantic.
Mendieta left Cuba as a preteen, fleeing the Castro regime, and spent years in U.S. foster care. Her sense of exile, Hyacinthe argues, colors her work. Hyacinthe examines the development of Mendieta's performative artworks—particularly the Silueta series (1973–1985), which documented the silhouette of her body in the earth over time (a series "without end," Mendieta said)—and argues that these works were shaped by Mendieta's appropriation and reimagining of Afro-Cuban ritual. Mendieta's effort to create works that invited audience participation, Hyacinthe says, signals her interest in forging connections with the marginalized, particularly those of the black Atlantic and Global South. Hyacinthe describes the "counter entropy" of Mendieta's small-scale earthworks (contrasting them with more massive works created by Robert Smithson and other male artists); considers the resonance of Mendieta's work with the contemporary practices of black Atlantic female artists including Wangechi Mutu, Renee Green, and Damali Abrams; and connects Mendieta's artistic and political expressions to black Atlantic feminisms of such popular artists as Princess Nokia.
Mendieta's life and work are often overshadowed in popular perception by her early and tragic death—at thirty-six, she plunged from the window of the thirty-fourth floor Greenwich Village apartment she shared with her husband, the artist Carl Andre. (Andre was charged with her murder and acquitted.) Hyacinthe's account—profusely illustrated, with many images in color—reclaims Mendieta's work and legacy for its artistic significance.
Praise for Radical Virtuosity: Ana Mendieta and the Black Atlantic
"By showing how a black Atlantic frame challenges received notions about performance and transience, Hyacinthe has achieved not only a defining study about Mendieta which is as virtuosic as the artwork she describes, but moreover has produced a benchmark of black Atlantic art history. Where is Ana Mendieta? She is everywhere, if we know how to look. 'Radical Virtuosity' helps viewers to do so in fresh and vital ways."
—Art History
"Groundbreaking...Hyacinthe brilliantly reframes Mendieta's celebrated works, and makes us see them anew."
—Hyperallergic
"In her new book Radical Virtuosity: Ana Mendieta and the Black Atlantic (MIT Press, 2019), art historian Genevieve Hyacinthe locates the work of Ana Mendieta among the creative practices and politics of the black Atlantic—a term coined by scholar Paul Gilroy to refer to the distinct, hybrid culture that emerged as a result of the forced migration of black people during the slave trade and incorporates elements of African, American, British, and Caribbean traditions. In the book, Hyacinthe argues that Mendieta, who fled Cuba in her youth and grew up in foster care in the United States, connected myriad marginalized communities through her work, which was pervaded by a sense of exile."
—Art in America