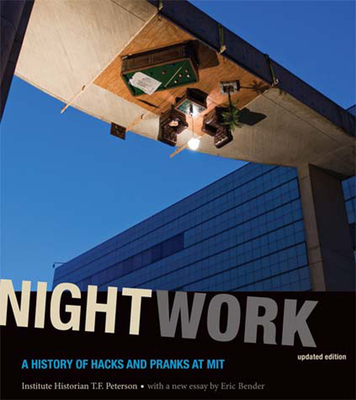 Nightwork, updated edition: A History of Hacks and Pranks at MIT
Publication Date:
March 11th, 2011
The MIT Press Bookstore
9 on hand, as of Sep 21 10:34am
(MITA)
On Our Shelves Now
Description
A lively introduction to MIT hacks, from the police car on the Great Dome to the abduction of the Caltech cannon.
An MIT "hack" is an ingenious, benign, and anonymous prank or practical joke, often requiring engineering or scientific expertise and often pulled off under cover of darkness—instances of campus mischief sometimes coinciding with April Fool's Day, final exams, or commencement. (It should not be confused with the sometimes non-benign phenomenon of computer hacking.) Noteworthy MIT hacks over the years include the legendary Harvard–Yale Football Game Hack (when a weather balloon emblazoned "MIT" popped out of the ground near the 50-yard line), the campus police car found perched on the Great Dome, the apparent disappearance of the Institute president's office, and a faux cathedral (complete with stained glass windows, organ, and wedding ceremony) in a lobby. Hacks are by their nature ephemeral, although they live on in the memory of both perpetrators and spectators. Nightwork, drawing on the MIT Museum's unique collection of hack-related photographs and other materials, describes and documents the best of MIT's hacks and hacking culture. This generously illustrated updated edition has added coverage of such recent hacks as the cross-country abduction of rival Caltech's cannon (a prank requiring months of planning, intricate choreography, and last-minute improvisation), a fire truck on the Dome that marked the fifth anniversary of 9/11, and numerous pokes at the celebrated Frank Gehry-designed Stata Center, and even a working solar-powered Red Line subway car on the Great Dome. Hacks have been said to express the essence of MIT, providing, as alumnus Andre DeHon observes, "an opportunity to demonstrate creativity and know-how in mastering the physical world." What better way to mark the 150th anniversary of MIT's founding than to commemorate its native ingenuity with this new edition of Nightwork?
About the Author
Institute Historian T. F. Peterson has spent many years lurking in the corridors of MIT picking up gossip and monitoring hacks in progress.
Praise for Nightwork, updated edition: A History of Hacks and Pranks at MIT
Nightwork. .. shows that students just want to have fun, especially engineering and technology students.—Publishers Weekly—
A reminder that it is up to each generation to go where no man has gone before.
—The New York Sun—