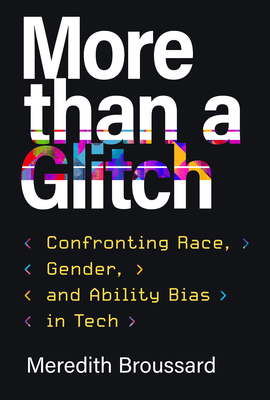 More than a Glitch: Confronting Race, Gender, and Ability Bias in Tech
Publication Date:
March 14th, 2023
The MIT Press Bookstore
19 on hand, as of Nov 30 10:32am
(STS)
On Our Shelves Now
Description
When technology reinforces inequality, it's not just a glitch—it's a signal that we need to redesign our systems to create a more equitable world.
The word "glitch" implies an incidental error, as easy to patch up as it is to identify. But what if racism, sexism, and ableism aren't just bugs in mostly functional machinery—what if they're coded into the system itself? In the vein of heavy hitters such as Safiya Umoja Noble, Cathy O'Neil, and Ruha Benjamin, Meredith Broussard demonstrates in More Than a Glitch how neutrality in tech is a myth and why algorithms need to be held accountable.
Broussard, a data scientist and one of the few Black female researchers in artificial intelligence, masterfully synthesizes concepts from computer science and sociology. She explores a range of examples: from facial recognition technology trained only to recognize lighter skin tones, to mortgage-approval algorithms that encourage discriminatory lending, to the dangerous feedback loops that arise when medical diagnostic algorithms are trained on insufficiently diverse data. Even when such technologies are designed with good intentions, Broussard shows, fallible humans develop programs that can result in devastating consequences.
Broussard argues that the solution isn't to make omnipresent tech more inclusive, but to root out the algorithms that target certain demographics as "other" to begin with. With sweeping implications for fields ranging from jurisprudence to medicine, the ground-breaking insights of More Than a Glitch are essential reading for anyone invested in building a more equitable future.
Praise for More than a Glitch: Confronting Race, Gender, and Ability Bias in Tech
Included in the FT's best summer books of 2023: Technology
Included in The Enterprisers Project's "10 must-read tech books for 2023"
Included in the Next Big Idea Club's "40 Nonfiction Books to Watch Out for in 2023"
Included in Ms. magazine's "The Most Anticipated Feminist Books of 2023" list
Included in Cosmopolitan's "11 Best New Nonfiction Books to Add to Your TBR Pile in 2023"
Included in Glamour's "The 15 Best Nonfiction Books of 2023, So Far"
Featured in Wired, Getting Curious with Jonathan Van Ness, Fast Company, CBC's Spark, and more
"Telling the stories of individuals from marginalized communities who have been wronged by technology, the author shows how design and conceptual failures produce unfair outcomes...The stories enrage and drive home the cost of the failures and prejudices built into ostensibly cutting-edge programs. This sobering warning about the dangers of technology alarms and unsettles."
–Publishers Weekly
"Broussard brings her perspective as a multiracial woman, data journalist, and computer scientist to an eye-opening critique of racism, sexism, and ableism in technology. She decries technochauvinism, which she defines as 'a kind of bias that considers computational solutions to be superior to all other solutions'...An informed analysis of one of the insidious elements of technology."
–Kirkus Reviews
"With her latest book, Meredith Broussard picks up on the threads of Safiya Noble and Ruha Benjamin as she demonstrates how technology reinforces injustice through its ubiquitous algorithms and questionable human interactions."
–Ms.
"Technology often discriminates against marginalised communities because society does, writes this leading researcher into algorithmic bias and New York University associate professor. But Broussard argues a potential reboot is possible and that public interest technology can be used to promote a more just society."
–The Financial Times
"Meredith Broussard is unusually well placed to dissect the ongoing hype around AI. She's a data scientist and associate professor at New York University, and she's been one of the leading researchers in the field of algorithmic bias for years. And though her own work leaves her buried in math problems, she's spent the last few years thinking about problems that mathematics can't solve. Her reflections have made their way into a new book about the future of AI. In More than a Glitch, Broussard argues that we are consistently too eager to apply artificial intelligence to social problems in inappropriate and damaging ways. Her central claim is that using technical tools to address social problems without considering race, gender, and ability can cause immense harm."
–The MIT Technology Review

"People like to think of technology as a neutral force, but the truth is that racism, sexism, and ableism are often coded right into the tech systems we use every day (like how facial recognition technology is primed to work on lighter skin, or how mortgage-approval algorithms lead to discriminatory lending). It's an important topic in an increasingly tech-reliant world, and More Than a Glitch is a great place to start learning about it."
–Cosmopolitan
"Meredith Broussard is not your usual AI scholar…what's also notable about Broussard's work on AI is that she has found ways to convey just how much AI has already infiltrated the lives of everyday people. In her latest book, More than a Glitch, for instance, she writes about various tangible examples that bring to light the very significant and at times problematic ways AI is already affecting various facets of people's lived experience, whether it be soap dispensers that do not recognize darker skin tones or the AI technology that told her she had cancer. And this book is not just for Big Tech developers or professors who debate the ethical implications of AI. Her book is written for people of all tech-literacy levels. You can tell Broussard is a teacher as well as a scholar; she's not afraid to explain some of the most obscure issues in plain words."
–TheMarkup
"Broussard, a researcher and reporter whose work focuses on ethics in AI, is the perfect guide to this moment. She brings transparency, analysis, and personal touches to a field that is kept intentionally opaque, in part so its creators can maintain its mystique."
–Glamour

"Broussard's book is distinguished by at least two elements: its extraordinarily expansive scope on the one hand, and its no-nonsense approach to both the problem and its solutions on the other...It is undeniably hard not to be overwhelmed by the seemingly unstoppable course of technological development in the contemporary world, especially around AI and everything it appears poised to reinvent. But cynicism can also be a hiding place for privilege, and those who say despairingly that nothing can be done are often those who stand to benefit most from nothing being done."
–The Conversation
"As machine learning capabilities only continue to improve, finding more ethical – and therefore more equitable – solutions to programming is an increasing priority for tech companies and developers. Broussard's book calls to mind the work of Anna Jean-Baptiste, and points to an overall cultural focus on equity and inclusivity."
–Forbes
"Why you should read it: You're a tech leader who understands that there is always bias in modern technologies – you recognize the fallibility of humans – but you want to learn about potential solutions to this problem. Explore the frameworks that target specific demographics as "other" in the first place. This is essential reading for anyone invested in building a more equitable future."
–The Enterprisers Project
"When technology reinforces inequality, it's not just a glitch—it's a signal that we need to redesign our systems to create a more equitable world."
–The Next Big Idea Club
"An artificial-intelligence (AI) 'glitch' is a problem neither expected nor consequential. Bias, by contrast, is baked in and disastrous, argues data scientist Meredith Broussard, one of very few Black women in this field, who focuses on AI and journalism."
–Nature