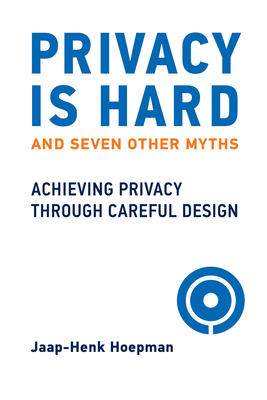 Privacy Is Hard and Seven Other Myths: Achieving Privacy through Careful Design
Publication Date:
October 5th, 2021
The MIT Press Bookstore
1 on hand, as of Nov 29 10:27am
(CS)
On Our Shelves Now
Description
An expert on computer privacy and security shows how we can build privacy into the design of systems from the start.
We are tethered to our devices all day, every day, leaving data trails of our searches, posts, clicks, and communications. Meanwhile, governments and businesses collect our data and use it to monitor us without our knowledge. So we have resigned ourselves to the belief that privacy is hard--choosing to believe that websites do not share our information, for example, and declaring that we have nothing to hide anyway. In this informative and illuminating book, a computer privacy and security expert argues that privacy is not that hard if we build it into the design of systems from the start.
Along the way, Jaap-Henk Hoepman debunks eight persistent myths surrounding computer privacy. The website that claims it doesn't collect personal data, for example; Hoepman explains that most data is personal, capturing location, preferences, and other information. You don't have anything to hide? There's nothing wrong with wanting to keep personal information--even if it's not incriminating or embarrassing--private. Hoepman shows that just as technology can be used to invade our privacy, it can be used to protect it, when we apply privacy by design. Hoepman suggests technical fixes, discussing pseudonyms, leaky design, encryption, metadata, and the benefits of keeping your data local (on your own device only), and outlines privacy design strategies that system designers can apply now.
About the Author
Jaap-Henk Hoepman is Associate Professor at the Institute for Computing and Information Sciences of the Radboud University Nijmegen, the Netherlands, where he is also a member of iHub, an interdisciplinary research hub on security, privacy, and data governance. He is Associate Professor in the IT Law section of the Transboundary Legal Studies Department of the Faculty of Law at the University of Groningen.