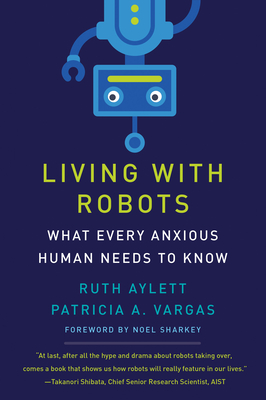 Living with Robots: What Every Anxious Human Needs to Know
Publication Date:
May 2nd, 2023
Usually Ships in 1 to 5 Days
Description
The truth about robots: two experts look beyond the hype, offering a lively and accessible guide to what robots can (and can't) do.
There's a lot of hype about robots; some of it is scary and some of it utopian. In this accessible book, two robotics experts reveal the truth about what robots can and can't do, how they work, and what we can reasonably expect their future capabilities to be. It will not only make you think differently about the capabilities of robots; it will make you think differently about the capabilities of humans.
 
Ruth Aylett and Patricia Vargas discuss the history of our fascination with robots—from chatbots and prosthetics to autonomous cars and robot swarms. They show us the ways in which robots outperform humans and the ways they fall woefully short of our superior talents. They explain how robots see, feel, hear, think, and learn; describe how robots can cooperate; and consider robots as pets, butlers, and companions. Finally, they look at robots that raise ethical and social issues: killer robots, sexbots, and robots that might be gunning for your job. Living with Robots equips readers to look at robots concretely—as human-made artifacts rather than placeholders for our anxieties.
 Find out: 
•Why robots can swim and fly but find it difficult to walk  
•Which robot features are inspired by animals and insects
•Why we develop feelings for robots 
•Which human abilities are hard for robots to emulate
About the Author
Ruth Aylett is Professor of Computer Science at Heriot-Watt University in Edinburgh. A robotics researcher for thirty years, she is the author of Robots: Bringing Intelligent Machines to Life. Patricia A. Vargas is Founder-Director of the Robotics Laboratory at Heriot-Watt University, where she is Associate Professor of Computer Science and Robotics. She is coeditor of The Horizons of Evolutionary Robotics (MIT Press).