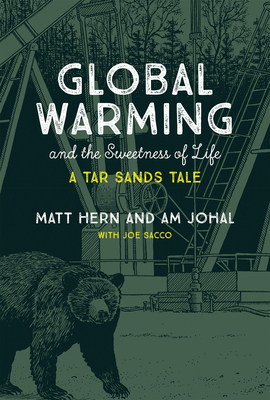 Global Warming and the Sweetness of Life: A Tar Sands Tale
Publication Date:
March 30th, 2018
The MIT Press Bookstore
1 on hand, as of Nov 29 10:27am
(ENVST)
On Our Shelves Now
Description
Seeking new definitions of ecology in the tar sands of northern Alberta and searching for the sweetness of life in the face of planetary crises.
Confounded by global warming and in search of an affirmative politics that links ecology with social change, Matt Hern and Am Johal set off on a series of road trips to the tar sands of northern Alberta—perhaps the world's largest industrial site, dedicated to the dirty work of extracting oil from Alberta's vast reserves. Traveling from culturally liberal, self-consciously "green" Vancouver, and aware that our well-meaning performances of recycling and climate-justice marching are accompanied by constant driving, flying, heating, and fossil-fuel consumption, Hern and Johal want to talk to people whose lives and fortunes depend on or are imperiled by extraction. They are seeking new definitions of ecology built on a renovated politics of land. Traveling with them is their friend Joe Sacco—infamous journalist and cartoonist, teller of complex stories from Gaza to Paris—who contributes illustrations and insights and a chapter-length comic about the contradictions of life in an oil town. The epic scale of the ecological horror is captured through an series of stunning color photos by award-winning aerial photographer Louis Helbig.
Seamlessly combining travelogue, sophisticated political analysis, and ecological theory, speaking both to local residents and to leading scholars, the authors propose a new understanding of ecology that links the domination of the other-than-human world to the domination of humans by humans. They argue that any definition of ecology has to start with decolonization and that confronting global warming requires a politics that speaks to a different way of being in the world—a reconstituted understanding of the sweetness of life.
Published with the help of funding from Furthermore: a program of the J. M. Kaplan fund
Praise for Global Warming and the Sweetness of Life: A Tar Sands Tale
A book like no other – one of the most peculiar I have read in a while… A highly intelligent and inspiring read.—E&T Magazine—
The book's intellectual rigour is as laudable as its open-mindedness.
—Canadian Centre for Policy Alternatives Monitor—
appealingly humble and refreshingly determined to talk about big ideas with the individuals who would be most affected by their implementation.
—New York Review of Books, 2.21.2019—
no one else could have written this book, in this form, and it's a delight to be faced so openly with such complexity of perspective in (mostly!) direct prose.
—Book Addiction Blog—