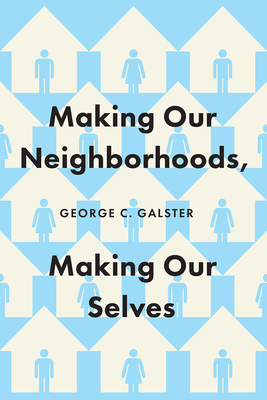 Making Our Neighborhoods, Making Our Selves
Publication Date:
March 13th, 2019
Publisher:
University of Chicago Press
The MIT Press Bookstore
15 on hand, as of Nov 29 10:27am
(URBAN)
On Our Shelves Now
Description
Drawing on economics, sociology, geography, and psychology, Galster delivers a clear-sighted explanation of what neighborhoods are, how they come to be—and what they should be.
Urban theorists have tried for decades to define exactly what a neighborhood is. But behind that daunting existential question lies a much murkier problem: never mind how you define them—how do you make neighborhoods productive and fair for their residents? In Making Our Neighborhoods, Making Our Selves, George C. Galster delves deep into the question of whether American neighborhoods are as efficient and equitable as they could be—socially, financially, and emotionally—and, if not, what we can do to change that. Galster aims to redefine the relationship between places and people, promoting specific policies that reduce inequalities in housing markets and beyond.
Praise for Making Our Neighborhoods, Making Our Selves
"Highly recommended. . . Impressive in its scholarship and scope, this is a major addition to the literature on neighborhoods. . . Galster brings clarity and precision to this literature through a unified framework of neighborhood change."
— Choice
"Galster's key argument—that we make our neighborhoods and then they make us—marks a critical contribution to the scholarship on neighborhood effects. . . He leads us through the maze and helps us find connections between seemingly disparate findings via a compelling theoretical framework."
— Social Forces
"Galster goes further than other behavioral economists in that he offers actual policy strategies for what might make a more socially desirable neighborhood in America. He is interested in collective action, in policy change, and in influencing, in a dramatic way, our attitudes and perceptions about the importance of neighborhood. I urge planners to read this book and cheer him on... Making Our Neighborhoods, Making Our Selves is his most definitive statement yet on the neighborhood integration theme."
— Journal of the American Planning Association
"Bringing together frameworks and extensive evidence from across the social sciences, this important and unique book helps us understand how and why neighborhoods form and change, the many ways in which they shape our lives and opportunities, and how policies can help to make them both vibrant and inclusive. Making Our Neighborhoods, Making Our Selves is the rare book that offers not only critical insights for scholars but also concrete guidance for policymakers."
— Ingrid Gould Ellen
"In Making Our Neighborhoods, Making Our Selves, Galster draws upon decades of research to illustrate the multiple paths through which we make our neighborhoods and, in turn, are shaped by the neighborhoods we make. Galster develops sophisticated arguments, but the logic is easy to follow. This book unifies a large body of interdisciplinary literature on neighborhood dynamics that Galster was instrumental in creating, moves that literature forward by developing testable empirical hypotheses about neighborhood change, and offers a menu of strategies that are designed to create a spatial opportunity structure defined by high-quality, diverse, and stable neighborhoods."
— Casey Dawkins, University of Maryland
"Galster's work represents the cutting edge of our understanding of neighborhood change. His work needs to be the state of the art of community development practice. This book should make a significant contribution toward advancing our understanding and practice of community development."
 
— Kirk McClure
"For scholars and policy analysts with an in depth interest in understanding what neighborhoods are, and how and why they develop and change as they do, it is undoubtedly a very rich source of information, ideas and analytical frameworks. A particularly welcome feature of the book is the way in which it uses diagrams to highlight the relationships between different factors affecting behavior and outcomes, as well as patterns of connections and circular causation. It builds on research from multiple disciplines over several decades (with sections of the book drawing on published articles) and as such is able to provide a detailed holistic multilevel perspective on neighborhood development which is strong on conceptualization and measurement. It is this holistic perspective – and the way in which academic insights are tied to policy and practice recommendations - that is the key contribution of this book."
— Housing Studies