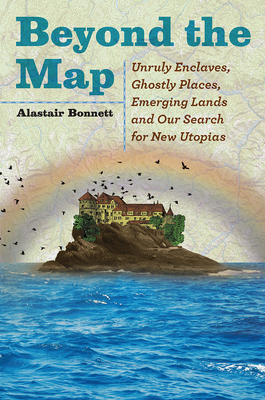 Beyond the Map: Unruly Enclaves, Ghostly Places, Emerging Lands and Our Search for New Utopias
Publication Date:
April 11th, 2018
Publisher:
University of Chicago Press
The MIT Press Bookstore
1 on hand, as of Dec 8 10:45am
(SS)
On Our Shelves Now
Description
New islands are under construction or emerging because of climate change. Eccentric enclaves and fantastic utopian experiments are multiplying. Once-secret fantasy gardens are cracking open their doors to outsiders. Our world is becoming stranger by the day—and Alastair Bonnett observes and captures every fascinating change.
 
In Beyond the Map, Bonnett presents stories of the world's most extraordinary spaces—many unmarked on any official map—all of which challenge our assumptions about what we know—or think we know—about our world. As cultural, religious and political boundaries ebb and flow with each passing day, traditional maps unravel and fragment. With the same adventurous spirit he effused in the acclaimed Unruly Places, Bonnett takes us to thirty-nine incredible spots around the globe to explore these changing boundaries and stimulate our geographical imagination. Some are tied to disruptive contemporary political turbulence, such as the rise of ISIL, Russia's incursions into Ukraine and the Brexit vote in the United Kingdom. Others explore the secret places not shown on Google Earth or reflect fast-changing landscapes.
 
Beyond the Map journeys out into a world of mysterious, daunting and magical spaces. It is a world of hidden cultures and ghostly memories, of uncountable new islands and curious stabs at paradise. From the phantom tunnels of the Tokyo subway to a stunning movie-set re-creation of 1950s-era Moscow; from the caliphate of the Islamic State to virtual cybertopias—this book serves as an imaginative guide to the farthest fringes of geography.
Praise for Beyond the Map: Unruly Enclaves, Ghostly Places, Emerging Lands and Our Search for New Utopias
"Ranging from downright funny to deadly serious, each chapter in this guide from social geography professor Bonnett takes the reader on a journey to an unusual location. . . . By turns delightful and sobering, this book, like the best travel, inspires both the mind and the imagination."
— Publishers Weekly
"Bonnett has a flair for communicating his passion for 'the glee and the drama, the love and the loathing' that emanate from the earth's most perplexing and mutable places. . . . [His] provocative detours show us how much more we can know of the known world, if we know where to look, and how."
— New York Times Book Review
"These essays about islands that appear and disappear with the tides, guerrilla gardeners planting on traffic circles, and clothing malfunctions in Second Life are entertaining as well as thought provoking. . . . Having visited most of the places, the author is lively and personally engaging, making this a recommended collection for public libraries."
— Booklist
"Enticing. . . . From the concept of guerrilla gardening in concrete jungles, trap streets on many maps, and the coastal tsunami stones planted decades or centuries ago in Japan . . . Bonnett fascinates with an exploration of the world beyond the map. Readers will want to take their time with each chapter, to peruse every new and often thought-provoking idea. Bonnett's exploration of areas unmarked on any map will delight fans of geography and cartography."
— Library Journal
"[Bonnett's] work uncovering new islands as well as hidden enclaves, utopian societies and even rumored or magical places fills his new book Beyond the Map. . . . The book's discoveries chart shifts in geology, climate, politics and culture with an optimistic sense of wanderlust."
— New York Times
"[Beyond the Map] is important for its myriad examples of how to see and explore our surroundings with fresh eyes and leave ourselves open to new discoveries. . . . In urging us towards new intellectual vistas, Bonnett gives us a glimpse of what it might be like to question the fundamental boundaries and delineations of our ideas about space, politics, conflict, community, connection, and neighbors. The book opens up new spaces in our minds in which alternative futures could take root."
— Undark
"Bonnett. . . cut[s] to the heart of what geography is, and also, why it matters."
— Directions Magazine
"Beyond the Map is in fact very much a map of our existing world or, better still, of our imagination of the world. Places we never knew were there, places that are there because we've dreamt them up so forcefully, places that were there and then vanished into oblivion are all beautifully described in this witty, erudite, original volume that deserves a place between Mandeville's Travels and Umberto Eco's Book of Imaginary Lands."
— Alberto Manguel, coauthor of The Dictionary of Imaginary Places
"Full of rich, strange anecdote, Beyond the Map skips restlessly around the globe, from the islands emerging out of the Gulf of Bothnia, to trap streets. Along the way Bonnett poses challenging, often uncomfortable, questions about the roles that power, money and identity have come to play in negotiating—or, just as often, dictating—our sense of place...This fine book is an expert, engaged guide to how one might begin to start mapping these often perplexing processes."
— Prospect
"Fascinating. . . . The combination of the unusual subject matter, slightly offbeat approach, and genial narration might just have you devouring it in one sitting. No matter how you approach it, it's 39 journeys worth taking."
— Civil Engineering
"An engrossing look at geographical eccentricities that will be revealing for even seasoned armchair travellers."
— Engineering & Technology
"Whether exploring modern legends that suggest that commuters go missing in Tokyo's enormous Shinjuku train station, or chronicling humanity's search for utopias in cyberspace and perpetual mobility, Bonnett has an eye for the fascinating corners of his subject, not all of which are remote and inaccessible. . . . . There's much to enjoy here; and a useful warning, too—if one is needed—as to the inadvisability of combining red wine with late-night online shopping."
— Geographical
"Fans of Bonnett's earlier work, followers of Atlas Obscura, and academic geographers in search of a fun read will no doubt find this book essential."
— Geoff Manaugh, author of A Burglar's Guide to the City
"At a time when many of us imagine the world as known, measured, bounded, and recorded, Bonnett gives us the gift we most desire—the ability to be surprised again. Beyond the Map takes us on woozy romp through some of the kookiest, eeriest, and most impossible places on Earth, under the sea, and in cyberspace. In challenging us to imagine and explore the great unknown still out there, Bonnett has, once again, made geography sexy."
— Bradley Garrett, coauthor of Global Undergrounds: Exploring Cities Within