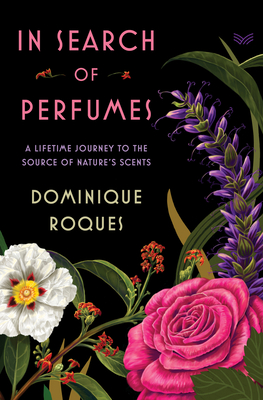 In Search of Perfumes: A Lifetime Journey to the Source of Nature's Scents
Publication Date:
May 2nd, 2023
The MIT Press Bookstore
1 on hand, as of Nov 29 10:27am
(NATUR)
On Our Shelves Now
Description
"[An] immersive debut... with detailed accounts of his trips and vivid descriptions of the scents ... [Roques'] rich travelogue will transport readers." – Publishers Weekly (Starred Review)
In this intoxicating concoction of history, travelogue, and memoir, one of the perfume industry's leading scouts of natural ingredients tells the story of the precious ingredients needed to make our favorite fragrances.
Do you know how many flowers it takes to produce a kilo of rose oil? One million roses, each handpicked. When it comes to nature, Dominique Roques is a unique authority. He has spent the last thirty years working closely with local communities across the globe to establish a sustainable supply of natural ingredients crucial to perfume making.
From resin cultivated by traditional methods in El Salvador to rose oil distilleries in India as old as the Taj Mahal, his network reveals an elusive trade built on the fault lines of tradition and modernity. With In Search of Perfumes, Roques tells the story of seventeen of the industry's most precious ingredients–where they come from, their cultural and historic significance, and why we love them—from Indonesian patchouli to the "Damask rose," interweaving his own recollections and reflections on his life and work.
From Andalusia to Somaliland, Roques takes us on an exclusive tour of a vast but delicate ecosystem wholly sustained by the artisans who are its caretakers. Isolated and rural, the tropical jungles of northern Laos remain to this day the only source of benzoin that centuries earlier wafted through the air of Louis XIV's court. In Madagascar, where every transaction is made in cash, a caravan of porters carry pallets bearing $500,000 dollars to exchange for vanilla beans. The Venezuelan tonka bean, as fickle as the weather, may refuse to flower for years but is so esteemed by perfumers that patience becomes its truest virtue. Everywhere Roques takes us, his infectious curiosity and amiability illuminate an immersive world of the uncharted.
Entertaining and eye-opening, decorated with beautiful black-and-white illustrations, In Search of Perfumes is an irresistible exploration of the smells that fuel our nostalgia and suffuse our fantasies.
Translated from the French by Stephanie Smee
Supplemental enhancement PDF accompanies the audiobook.
Praise for In Search of Perfumes: A Lifetime Journey to the Source of Nature's Scents
"This immersive debut by Roques, a former head of sourcing for perfume developer Firmenich, examines how fragrances are derived and cultivated … With detailed accounts of his trips and vivid descriptions of the scents he's encountered … this rich travelogue will transport readers." — Publishers Weekly (starred review)
"From the perfumers with their childlike excited-ness ... [to] the dedicated processors and growers often with a heritage of knowledge, ... [Roques'] love for the ingredients and all those who help to bring them to the perfumer's palette sings from every page. A joy ... I would recommend it to everyone who wants an insight into perfumery and its ingredients." 
— Marianne Martin, President of the The British Society of Perfumers