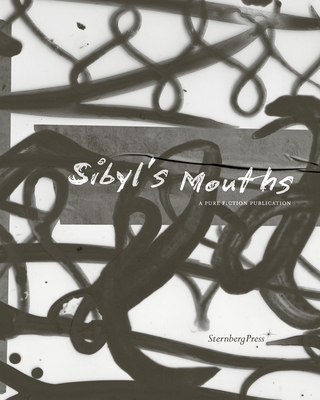 Sibyl's Mouths: A Pure Fiction Publication
Publication Date:
April 25th, 2023
Publisher:
Sternberg Press
The MIT Press Bookstore
3 on hand, as of Dec 8 10:45am
(STERN)
On Our Shelves Now
Description
Textual and visual ephemera along with performative documents stemming from a reading of Mary Shelley's 1826 novel The Last Man.
Sibyl's Mouths is the most recent in a series of publications by Pure Fiction, a writing and performance group with shifting members active since 2011. From February 12 to March 6, 2022, Pure Fiction presented an exhibition and performance program at the Kölnischer Kunstverein in Cologne titled "Shifting Theater: Sibyl's Mouths." The starting point was a collective reading of Mary Shelley's 1826 novel The Last Man, in which the narrator discovers a collection of scribbled oak leaves scattered in a cave outside Naples. Alleged prophecies of the Cumean Sibyl, the textual fragments inscribed on the leaves foretell the story of an epidemic that ravages the globe in the 2100s—a period where solitude, intimacy, and the perception of time is radically renegotiated.
Through a multiplicity of textual genres and writerly approaches, contributors will examine the questions and forms that emerge from prophecy: the role of the voice in text, writing, and performance; fragmentary heterogeneous narratives. The mouth is consulted, not only as a mouthpiece or as a cavernous instrument for vocalization but as an essential part of the digestive tract. Processes in the gut, such as assimilation, excretion, and regurgitation involve multiple temporal directionalities, and may function as metaphorical gateways to intuitive truths.
Contributors
Rosa Aiello, Gerry Bibby, Coleman Collins, Ayanna Dozier, Annie Ernaux, Amelia Groom, Michèle Graf & Selina Grüter, Monilola Olayemi Ilupeju, Ellen Yeon Kim, Bitsy Knox, Dan Kwon, Erika Landström, Enad Marouf, Katrin Mayer, Aislinn Mcnamara, Kamila & Jasmina Metwaly, Luzie Meyer, Vera Palme, Theresa Patzschke, Georgia Sagri, Mahsa Saloor, Elif Saydam, Mark Von Schlegell, Simon Speiser, Elaine Tam, C.S. Tolan, Mikhail Wassmer, Anna Zacharoff
About the Author
Rosa Aiello is an artist and writer working with video, photography, text, sound, and installation. Her video works have been shown at Schirn Kunsthalle, Frankfurt, Cell Project Space, London, Bureau des Réalités, Brussels, and Kunsthalle Zürich, Zurich, and are held in the collections at the Whitney Museum and Centre Pompidou.
 
Ellen Yeon Kim works as an artist and writer working through different methods, including theater, comedy, installation, and drawing. Yeon Kim studied at Hochschule für Bildende Künste–Städelschule in the class of Peter Fischli and Simon Starling and graduated from the Slade School of Art, UCL. She was awarded The Peter Mertes Stipendium in 2021 and has been a part of Kölnischer Kunstverein Atelier programme since 2019.
 
Erika Landström is an artist and writer working in performance, installation, and sculpture. She graduated from the Hochschule für Bildende Künste–Städelschule in 2015, where she studied in the class of Judith Hopf. In 2018–2019, she attended the Whitney Museum of American Art's Independent Study Program in New York.
 
Luzie Meyer is an artist, poet, musician, and translator based in Berlin. She studied Philosophy at Goethe University Frankfurt and graduated in Fine Arts from Hochschule für Bildende Künste–Städelschule in 2016. Her work has been shown at FANTA, Milan; Pogo Bar, Berlin; Efremidis, Berlin, Bel Ami, Los Angeles, Sweetwater, Berlin; Kölnischer Kunstverein; KW Institute for Contemporary Art, Berlin. In 2018 Meyer was awarded the studio residency of the Hessische Kulturstiftung at the Cité internationale des arts, Paris in 2018.
 
Mark von Schlegell's experimental writing practice has been crossing genres regularly, into literature, theory, science fiction, art, film, criticism, comics, performance and theater, since 1992. He has taught literature and art at CalArts, the San Francisco Art Institute, and Städelschule, Frankfurt.