Preorder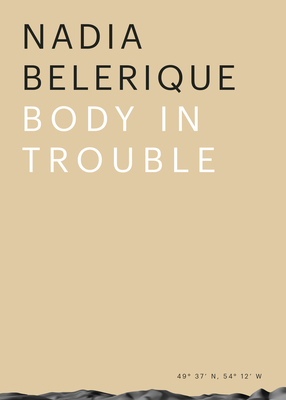 Body in Trouble
Publication Date:
January 30th, 2024
Publisher:
Sternberg Press
Description
A publication accompanying the exhibition Nadia Belerique: Body in Trouble at the Fogo Island Gallery.
This publication accompanies Body In Trouble, an exhibition of work by Nadia Belerique, curated by Claire Shea and Nicolaus Schafhausen and presented at the Fogo Island Gallery from July 29 to September 25, 2022. The publication features critical texts by Tom Engels and Ruba Katrib, a conversation between Nadia Belerique, Claire Shea, and Nicolaus Schafhausen, and is lavishly illustrated with original color photography and installation views.
Copublished with Fogo Island Arts
Contributors
Nadia Belerique, Tom Engels, Ruba Katrib, Nicolaus Schafhausen, Claire Shea
About the Author
Nicolaus Schafhausen is a curator, director, author, and editor of numerous publications on contemporary art. Since 2011 he has been the Strategic Director of Fogo Island Arts, Canada, an initiative of Shorefast, a charitable foundation dedicated to finding alternative solutions for the revitalization of areas prone to emigration. In addition to curating exhibitions and other projects, Schafhausen has led institutions such as the Frankfurter Kunstverein, Künstlerhaus Stuttgart, Kunsthalle Wien, and Witte de With Center for Contemporary Art in Rotterdam. He was Founding Director of the European Kunsthalle, a project examining the conditions and structures of contemporary art institutions independent of local government mandates.
Claire Shea is the Director at Fogo Island Arts, Canada. From 2017 to 2021, Shea was the Deputy Director at Para Site, Hong Kong's leading contemporary art centre and one of the oldest and most active independent art institutions in Asia.
Nadia Belerique has exhibited at the Toronto Biennial of Art (2022) and the New Museum Triennial (2021). Recent solo exhibitions include "Body In Trouble" at Fogo Island Arts (2022), "There's A Hole In The Bucket" at Daniel Faria Gallery (2019), "On Sleep Stones" at Grazer Kunstverein (2018), and "The Weather Channel" at Oakville Galleries (2018). Her work has been exhibited internationally at venues such as Kunstverein Braunschweig, Braunschweig (2020); Lyles & King, New York (2019); Arsenal Contemporary, New York (2018); Vie d'ange, Montréal (2017); Tensta Konsthall, Spånga (2016); The Power Plant, Toronto (2015); and Kunsthalle Wien, Vienna (2014).
Tom Engels works as a curator, editor, writer, educator, and dramaturge at the intersection of performance and the visual arts. Since October 2021, he is the Artistic Director of Grazer Kunstverein.
Ruba Katrib is Curator and Director of Curatorial Affairs at MoMA PS1, New York. At PS1 she has curated exhibitions such as "Greater New York" (2021), "Niki de Saint Phalle: Structures for Life" (2021), Simone Fattal's retrospective in 2019, and solo shows for Edgar Heap of Birds (2019), Karrabing Collective (2019), Fernando Palma Rodríguez, and Julia Phillips (2018). From 2012 to 2018 she was the Curator at SculptureCenter in New York.