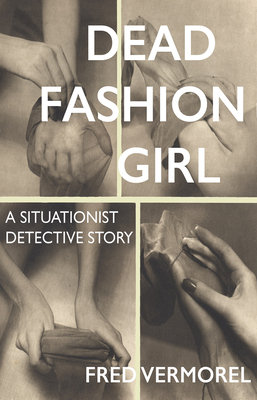 Dead Fashion Girl: A Situationist Detective Story
Publication Date:
October 15th, 2019
Publisher:
Strange Attractor Press
The MIT Press Bookstore
1 on hand, as of Nov 30 10:32am
(STATT)
On Our Shelves Now
Description
A crime and a six-decade cover-up: the death of a fashion designer in the cesspit of vice and violence that was 1950s London.
In 1954, Jean Mary Townsend was strangled with her own scarf and stripped of her underwear but not sexually assaulted. The subsequent police investigation was bungled, leading to a six-decade cover-up, ensuring that this twenty-one-year-old fashion designer was effectively killed twice: first bodily, and then as her significance and her memory were erased. Fred Vermorel's forensic, troubling (and trouble-making) investigation digs deep into Jean Townsend's life and times, and her transgressive bohemian milieu. It disentangles the lies and bluffs that have obscured this puzzling case for over half a century and offers a compelling solution to her murder and the official secrecy surrounding it.
More than just a true crime story, Vermorel's investigation deploys Townsend's death as a wild card methodology for probing the 1950s: a cesspit of vice and violence, from coprophiles to bombsite gangs and flick knives in the cinema. Densely illustrated with archival material, Dead Fashion Girl is a heavily researched, darkly curious exposé of London's 1950s society that touches on celebrity, royalty, the postwar establishment, and ultimately, tragedy.
Praise for Dead Fashion Girl: A Situationist Detective Story
Obsessive and impressive.
—The Times Crime Club
"A sulphurous perfume of debauchery rises from these pages. Libidinous parties, frauds, compliant models, pseudo-actresses, marriages of convenience, we swim in a poisonous aquarium. In this Modiano universe, cockney version, everything is cloudy, everything is blurry. Eyes are averted.
Vermorel examines the files, illuminates the grey areas. He is interested in high fashion and the mentality and mores of that period, he retraces the career of disgraced minister, Jack Profumo, cites a former mistress of James Bond actor, Roger Moore. Was Jean Townsend in the wrong place at the wrong time? Did she know things that would have bothered a corrupt elite?
Here she is, taking the last train home, crossing a desolate field in the middle of the night. She is a woman of the 1950s, designated prey. She remains a mystery. Vermorel offers her a memorial in print. His book is mesmerising. It evokes those classic British black and white films with Dirk Bogarde. But who could play Jean Townsend?
—Eric Neuhoff, Le Figaro