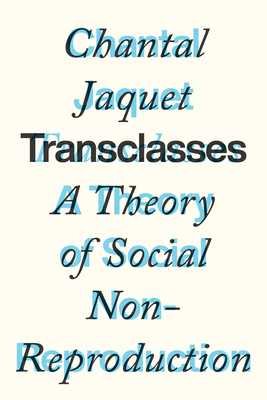 Transclasses: A Theory of Social Non-reproduction
Publication Date:
May 30th, 2023
The MIT Press Bookstore
1 on hand, as of Dec 8 10:45am
(POLSI)
On Our Shelves Now
Description
How people become "class traitors"
One is not born a worker or a boss. Social reproduction is not an iron law; it admits of exceptions that must be accounted for in order to measure its scope.
This book aims to understand the passage from one social class to another and to forge a method of approaching these particular cases which remain a blind spot in the theory of social reproduction. It analyzes the political, economic, social, familial and singular causes that contribute to non-reproduction, and their effects on the constitution of individuals transiting from one class to another.
At the crossroads of collective history and intimate history, Chantal Jaquet identifies class locations, the interplay of affects and encounters, and the role of sexual and racial differences. She invites us to break out of disciplinary isolation in order to grasp singularity at the crossroads of philosophy, sociology, psychology and literature.
This requires deconstruction of the concepts of social and personal identity, in favour of a concepts like complexion and the criss-crossing determinations. Through the figure of the transclass, it is thus the whole human condition that is illuminated in a new light.
Praise for Transclasses: A Theory of Social Non-reproduction
"Transclasses sets out to fill a lacuna created by the impoverished vocabulary of class by theorizing the class identities of 'exceptional' subjects who defy the predictions of social determinism and leave their formative social status behind. Terms of stigma—parvenu, careerist, déclassé, class defector—are used to socially shame such subjects, but as Jaquet demonstrates, to hew to these caricatural typologies is to miss out on the power of class transitioning at the microscales of lived experience and in an intersectional frame. If we have been used to thinking, with Althusser, in terms of the reproduction of capitalism, Jaquet goes one further, producing a model of non-reproductive modes of existence that, far from superseding class or ignoring the reproductive drive of capital, expand their conceptual parameters. An experiment in concept-work that draws on self-narration in literature and auto-ethnography (from Stendhal to Richard Wright, Pierre Bourdieu, Annie Ernaux and Didier Eribon), Transclasses will be essential reading for interdisciplinary fieldworkers committed to new lexicons of identity, class struggle and social change."
—Emily Apter, New York University, author of Unexceptional Politics: On Obstruction, Impasse and the Impolitic
"For more than a half-century sociologists, political theorists and scholars in the humanities have addressed the question of how a social order reproduces itself, above all, the relations of exploitation and domination that characterize it. Chantal Jaquet, whose studies of Spinoza have helped transform our understanding of that difficult philosopher, asks us instead to examine the phenomenon of non-reproduction, that is, the production of those who fail to fulfil or who resist the roles and functions to them. Her path-breaking work should be read by all those interested in understanding social transformation."
—Warren Montag