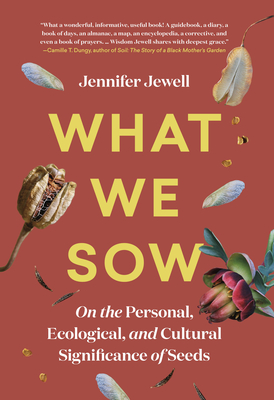 What We Sow: On the Personal, Ecological, and Cultural Significance of Seeds
Publication Date:
September 19th, 2023
The MIT Press Bookstore
1 on hand, as of Nov 30 10:32am
(NATUR)
On Our Shelves Now
Description
An insightful, personal, and timely exploration into the wonderful world of seeds. 
In What We Sow, Jennifer Jewell brings readers on an insightful, year-long journey exploring the outsize impact one of nature's smallest manifestations—the simple seed. She examines our skewed notions where "organic" seeds are grown and sourced, reveals how giant multinational agribusiness has refined and patented the genomes of seeds we rely on for staples like corn and soy, and highlights the efforts of activists working to regain legal access to heirloom seeds that were stolen from Indigenous peoples and people of color. Throughout, readers are invited to share Jewell's personal observations as she marvels at the glory of nature in her Northern California hometown. She admires at the wild seeds she encounters on her short daily walks and is amazed at the range of seed forms, from cups and saucers to vases, candelabras, ocean-going vessels, and airliners.
 
What We Sow is a tale of what we choose to see and what we haven't been taught to see, what we choose to seed and what we choose not to seed. It urgently proves that we must work hard to preserve and protect the great natural diversity of seed.
 
Praise for What We Sow: On the Personal, Ecological, and Cultural Significance of Seeds
"What a wonderful, informative, useful book! A guidebook, a diary, a book of days, an almanac, a map, an encyclopedia, a corrective, and even a book of prayers….Wisdom Jewell shares with deepest grace."—Camille T. Dungy, author of Soil: The Story of a Black Mother's Garden
"A fascinating discourse on seeds, how we use and abuse them, and how to forge a more sustainable relationship with the seeds we depend on."—Douglas W. Tallamy, author of Nature's Best Hope
"A delightful blend of science and storytelling. With a single seed as her starting point, Jennifer Jewell takes us on a journey fueled by curiosity and wonder."
 —Amy Stewart, author of Wicked Plants
"With elegance and vulnerability, Jewell weaves stories from ecology, horticulture, food and her own life into a full and round narrative that reflects the fragility, hope and resilience of seeds along with their impact on our daily lives."
 —Uli Lorimer, Director of Horticulture at Garden In The Woods, Native Plant Trust
"Jewellinvites the reader to celebrate the extraordinary power and metaphor encapsulated in seeds."—Jun Bando, Executive Director California Native Plant Society
"If you are a Cultivating Place listener, it's likely you'll hear Jennifer speaking as you read these words. This is a good thing; the curiosity in her voice adds another layer of appreciation to the topic of seeds; magical, glorious seeds."  —Loree Bohl, author of Fearless Gardening
"What We Sow unspools the essence of seeds as the planetary lifeboats they are. Our future may be uncertain, but, as anyone knows who's ever poked a seed into dirt and watched in wonder as a tiny pair of leaves unfurls and grows, seeds give us hope."—Pam Penick, author of Lawn Gone
"Jennifer Jewell is a wise guide and skilled storyteller. An enlightening and important book."—Georgina Reid, creator of Wonderground and author of The Planthunter
"The personal, the historical, and the scientific are woven into Jennifer's penetrative book, bringing our focus to the kernels grown in pastures and gardens that nourish humanity. What We Sow illuminates the importance of seeds in preserving our histories, heritage, cultures, and family legacies; and of the need to maintain the seed diversity that I hope will someday restore decimated landscapes across the planet."
 —Wambui Ippolito
 "With seeds as her lens, Jewell exquisitely and approachably calls our contemporary way of living to task for its "nature blindness" and offers strategies and stories of people and ways of being working towards a future that is more resilient, kind, and whole. I pray these seeds take root."
 —David Godshall, TERREMOTO
"Jewell's reverence for the natural world comes through on every page."—Publishers Weekly
"A hope chest of seed — dried and stored — the stuff of the next possible sowing, and the next."—The New York Times
"A beautiful, informed, heart-led and thoughtful book…Jewell shares the hard work and optimism of plants — and seedpeople who are working to assure a healthy and seedy future."—The Seattle Times
"For all gardeners, the world contained within a seed is definitely worth exploring…. Jewell's book is part diary, part discussion point."—Gardenista