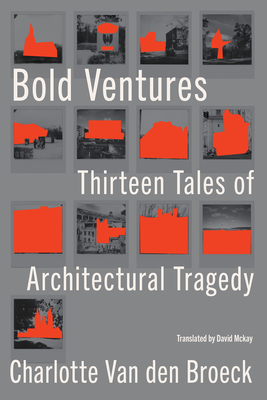 Bold Ventures: Thirteen Tales of Architectural Tragedy
Publication Date:
October 11th, 2022
The MIT Press Bookstore
2 on hand, as of Dec 8 10:45am
(AH)
On Our Shelves Now
Description
A prize-winning Belgian poet explores the nature of creative endeavor—the godlike ambition, the crushing defeat of failure—through the stories of thirteen tragic architects.
In thirteen fascinating chapters, Charlotte Van den Broeck goes in search of buildings that were fatal to their architects—architects who either killed themselves or are rumored to have done so. They range across time and space from a church with a twisted spire in seventeenth-century France to a theater that collapsed mid-performance in 1920s Washington, DC, and an eerily sinking swimming pool in the author's hometown. Drawing on a vast range of material, from Hegel and Darwin to art history, stories from her own life, and popular culture, Van den Broeck brings patterns into focus as she asks, What is that strange, life-or-death connection between a creation and its creator?
    Threaded through each story is the author's meditation on the question of suicide—what Albert Camus called the "one truly serious philosophical problem"—in relation to creativity and public disgrace. The result is a profoundly idiosyncratic book, breaking ground in literary nonfiction, as well as providing solace and consolation to anyone who has ever attempted a creative act.
Praise for Bold Ventures: Thirteen Tales of Architectural Tragedy
"Beguiling…a timely interrogation of what, exactly, constitutes success—of how to live…[Van den Broeck's] tiered confection is a small marvel: a monument to human beings continuing to reach for the skies, even after their plans dissolve in dust." —New York Times
"A poetic tale of thirteen flawed buildings that spelled catastrophe for their designers…resembles a pop version of Iain Sinclair's psychogeography or Out of Sheer Rage, Geoff Dyer's anti-biography of D. H. Lawrence." —The Guardian
 
"[A] gorgeous and roving debut…Van den Broeck's exploration extends beyond the lives and works of her subjects, turning into both a philosophical meditation on creativity and a brilliant character study of misunderstood artists. The result is a genre-bending work that's sure to fascinate those interested in art and architecture, as well as anyone curious about the dangerous mechanisms of the creative mind." —Publishers Weekly (starred review)
"A lively, deeply engrossing exploration into the nature of architectural creation." —Shelf Awareness
 
"Through this thoughtfully entertaining, psycho-geographic journey [Van den Broeck] explores and illuminates her idiosyncratic topic with intelligence and no little humor…enjoyable and enlightening." —Litro
"A unique survey of artistic creation…full of memorable scenes and insights." —Literary Review
 
"[Bold Ventures] dares to seek out a depth rarely encountered nowadays, one necessary for calling yourself an artist…this writer has something very special." —Low Countries
"Though Van den Broeck's subject here is failure—buildings disappoint, designers die by their own hand—her investigation into the fragility of creative hope has a genuine obsessive power." —Hugh Howard, author of Architects of an American Landscape
"What a sensible, intelligent, and beautiful book." —Stefan Hertmans, author of War and Turpentine
"You only really need to read two sentences to understand that someone who truly knows how to write is at work here." —Ilja Leonard Pfeijffer, author of Grand Hotel Europa
 
"A darkly comic meditation on the nature of creativity and the narrow margins between triumph and despair. Part memoir, part travelogue, and part reflection, this unique and hugely engaging book takes a fresh look at the tragicomic condition of being human." —Carolyn Steel, author of Sitopia