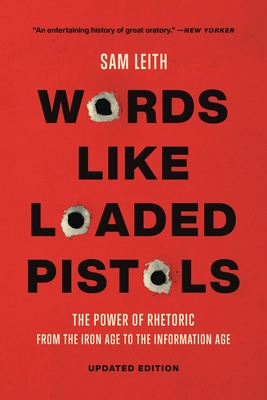 Words Like Loaded Pistols: The Power of Rhetoric from the Iron Age to the Information Age
Publication Date:
May 9th, 2023
The MIT Press Bookstore
1 on hand, as of Nov 30 10:32am
(POLSI)
On Our Shelves Now
Description
"An entertaining history of great oratory" (New Yorker) and a primer to rhetoric's key techniques
 
Rhetoric gives our words the power to inspire. But it's not just for politicians: it's all around us, whether you're buttering up a key client or persuading your children to eat their vegetables. You have been using rhetoric yourself, all your life. After all, you know what a rhetorical question is, don't you?
 
In Words Like Loaded Pistols, Sam Leith traces the art of argument from ancient Greece through the present day. He introduces verbal villains from Hitler to Donald Trump—and the three musketeers: ethos, pathos, and logos. He explains how rhetoric works in speeches from Cicero to Zelensky and pays tribute to the rhetorical brilliance of AC/DC's "Back in Black." Before you know it, you'll be confident in chiasmus and proud of your panegyrics—because rhetoric is useful, relevant, and crucial to understanding the world around us.
Praise for Words Like Loaded Pistols: The Power of Rhetoric from the Iron Age to the Information Age
"Delightful and illuminating.... Words Like Loaded Pistols sports a fabulous assortment of examples of time-tested rhetorical gambits in action.... The marvel is not that the old techniques still work, but that we ever persuaded ourselves that we could do without them."—Salon
undefined—The London Evening Standard (UK)
"Leith attempts to reclaim rhetoric with a breezy book that sprays
around examples from history, politics and popular culture to outline the
building blocks of public speech, flitting happily from Cicero to J-Lo, from
Hitler to Homer Simpson.... Leith's often engaging examples lighten any sense
of learning."—The Observer (UK)
"It is through a welter of colloquial examples and eccentric line
readings that the book really comes alive.... While the formal study of
rhetoric might have collapsed under its own weight, Leith offers a slimmed-down
version that is sure to enlighten."—The Financial Times (UK)
"A highly entertaining and erudite whisk through the subject
[of rhetoric].... It's not hard to agree that a little rhetorical knowledge is
a wonderful thing, and Leith's work will indeed prove instructive as well as
entertaining to those called on to speak in public."—TheGuardian (UK)
"This requires more than a cursory glance to appreciate its genius
properly, but Leith's great gift is the ability to plunder the everyday to
illustrate the rarefied...He describes the development of rhetoric beautifully,
and even after the most cursory dip into this, you begin to hear the world in a
completely different, illuminated way."—Telegraph (UK)
"Leith is good on tropes and registers and equally good at picking apart speeches - as his subtitle says, From Aristotle to Obama - to show us how they work.... [he] is good, too, on the structure of political speeches."—The Week (UK)
"Elegant, concise and frequently very funny."—Spectator (UK)
"Engrossing.... When it comes to Obama, Leith's scrutiny is painstaking
and he is especially illuminating on Obama's debts to Abraham Lincoln and
Martin Luther King."—Independent (UK)
"This isn't your parents' rhetoric primer. . . .Irreverent and funny, Words Like Loaded Pistols is filled with tongue-in-cheek witticisms, slang, and unexpected illustrations. . . . As political rhetoric builds toward November, Leith's subject will be unavoidable. For the coming months, friends, Buckeyes, countrymen, ready your ears."—Plain Dealer
"A rambunctious handbook of rhetoric . . . funny, friendly pages."—Wilson Quarterly
"Leith
brings to life a forgotten but eternally essential subject.... Leith uses every
tool in the rhetorician's arsenal to argue for rhetoric's continuing relevance....
Readers will gain a great deal of insight into how humans use communication to
get what they want...the book fulfills Cicero's three objectives of rhetoric:
'to move, educate, and delight.'"—Kirkus Reviews
"Timed
for a presidential election year, this sassy, smart book outlines and
illustrates nearly every rhetorical trope and flourish related to the art of
persuasion.... Leith can be fiendishly entertaining."—Publishers Weekly