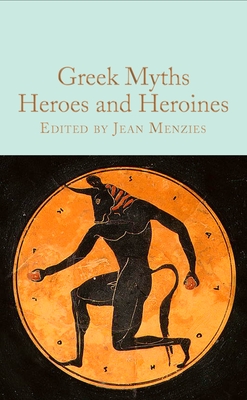 Greek Myths: Heroes and Heroines
Publication Date:
June 20th, 2023
Publisher:
Macmillan Collector's Library
The MIT Press Bookstore
1 on hand, as of Dec 8 10:45am
(FIC)
On Our Shelves Now
Description
Find out what happened when King Midas was granted his wish, how Icarus flew too close to the sun and discover the adventures of Jason and his crew, The Argonauts. Learn about the interplay between mortals and their gods in stories of love, betrayal, infatuation and punishment.
Part of the Macmillan Collector's Library; a series of stunning, clothbound, pocket-sized classics with gold foiled edges and ribbon markers. These beautiful books make perfect gifts or a treat for any book lover.
In Greek Myths: Heroes and Heroines, classicist and writer Jean Menzies has brought together eleven retellings of famous Greek Myths from the late 19th and early twentieth centuries. The result? An enlightening and lively volume of stories and a treat for all fans of the Greek Mythology.
Greek Myths have been part of Western culture since they were first set down by the ancients. The fact that there is no one definitive account means that through the centuries the stories have been ripe for reinterpretation according to the politics and fashions of the time. In this book, with stories written by the likes of Andrew and Jean Lang, Thomas Bullfinch and H A Guerber, each story has been chosen for its clarity and vivacity.
About the Author
A classics graduate for Edinburgh University, Jean Menzies is currently researching her PhD in ancient history/holds a PHD in ancient history. She is the author of the prize winning book Greek Myths: Meet the heroes, gods, and monsters of ancient Greece and she publishes fantasy fiction under the name Jean Z. Menzies. A classics enthusiast through and through, she produces the podcast That's Ancient History, which explores antiquity, from its history to its place in today's world. Episodes include interviews with authors Pat Barker, Madeline Miller, Natalie Haynes, and Alexandra Sheppard. She also hosts her long running YouTube channel Bookish Thoughts where she discusses books, writing, studying, and ancient history.