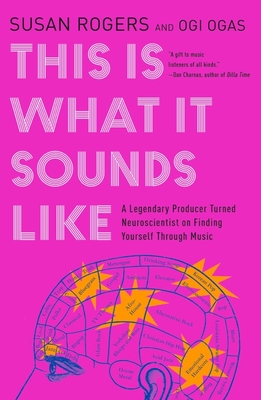 This Is What It Sounds Like: A Legendary Producer Turned Neuroscientist on Finding Yourself Through Music
Publication Date:
September 19th, 2023
Publisher:
W. W. Norton & Company
The MIT Press Bookstore
1 on hand, as of Dec 5 4:07pm
(MUSIC)
On Our Shelves Now
Description
One of the Next Big Idea Club's Favorite Nonfiction Books
A Behavioral Scientist Notable Book of 2022
A legendary record producer–turned–brain scientist explains why you fall in love with music.
This Is What It Sounds Like is a journey into the science and soul of music that reveals the secrets of why your favorite songs move you. But it's also a story of a musical trailblazer who began as a humble audio tech in Los Angeles, rose to become Prince's chief engineer for Purple Rain, and then created other No. 1 hits ,including Barenaked Ladies' "One Week," as one of the most successful female record producers of all time.
Now an award-winning professor of cognitive neuroscience, Susan Rogers leads readers to musical self-awareness. She explains that we each possess a unique "listener profile" based on our brain's natural response to seven key dimensions of any song. Are you someone who prefers lyrics or melody? Do you like music "above the neck" (intellectually stimulating), or "below the neck" (instinctual and rhythmic)? Whether your taste is esoteric or mainstream, Rogers guides readers to recognize their musical personality, and offers language to describe one's own unique taste. Like most of us, Rogers is not a musician, but she shows that all of us can be musical—simply by being an active, passionate listener.
While exploring the science of music and the brain, Rogers also takes us behind the scenes of record-making, using her insider's ear to illuminate the music of Prince, Frank Sinatra, Kanye West, Lana Del Rey, and many others. She shares records that changed her life, contrasts them with those that appeal to her coauthor and students, and encourages you to think about the records that define your own identity.
Told in a lively and inclusive style, This Is What It Sounds Like will refresh your playlists, deepen your connection to your favorite artists, and change the way you listen to music.
Praise for This Is What It Sounds Like: A Legendary Producer Turned Neuroscientist on Finding Yourself Through Music
This Is What It Sounds Like is a revelation. Susan Rogers and Ogi Ogas offer extraordinary insights about music, emotion, and the brain, and they deliver them with great flair and flow. For all I thought I knew about these subjects, I learned a lot from this book—and was entertained at every turn, both by the ideas and the poetry of their expression. This instant classic should be read by anyone who has ever been moved by a piece of music—in other words, everyone.
— Dr. Daniel J. Levitin, author of This Is Your Brain on Music and The Organized Mind
A deliciously nerdy resource for music lovers, and for anyone who thinks deeply about music and how it moves them. What Rogers and Ogas do with This Is What It Sounds Like is distill the science around music into an accessible and wonderous new level of understanding, of the elusive why of loving and living for music.
— Jessica Hopper, author of The First Collection of Criticism by a Living Female Rock Critic
Susan Rogers found her superpower in the music world not as a musician, but as a master listener. Rogers' book is a gift to music listeners of all kinds—because in listening we hear not only the music, we hear the sonic signature of our own soul.
— Dan Charnas, author of Dilla Time: The Life and Afterlife of J Dilla, the Hip-Hop Producer Who Reinvented Rhythm
Susan is one of the smartest people in the world of music and this book will help you hear music more deeply and more thoughtfully. You can tell why Prince loved working with her.
— Touré, author of I Would Die 4 U: Why Prince Became an Icon
This is the book that scholars and fans of popular music across all disciplines have impatiently waited for. It is truly inspiring, the kind of book you fall in love with, that causes us to reflect over how and why records become a condition of the heart.
— Stan Hawkins, Professor of Musicology, University of Oslo
[A] pitch-perfect deep-dive into the power of music….Combining erudite analysis with plenty of soul, this will have music lovers rapt.
— Publishers Weekly (starred review)
An intriguing look at how what enters our ears shapes our minds.
— Kirkus Reviews
It's like two books in one: stories of some of our most beloved musicians, singers and songwriters, coupled with insights about how and why our brains decipher musical notes, melodies and lyrics in particular ways.
— BookPage (starred review)