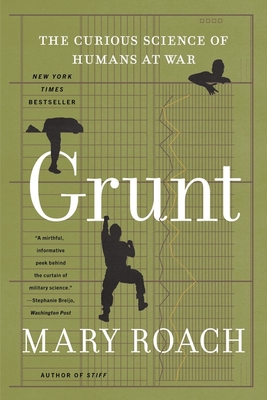 Grunt: The Curious Science of Humans at War
Publication Date:
October 4th, 2022
Publisher:
W. W. Norton & Company
The MIT Press Bookstore
1 on hand, as of Sep 21 10:34am
(GS)
On Our Shelves Now
Description
A New York Times / National Bestseller
"America's funniest science writer" (Washington Post) Mary Roach explores the science of keeping human beings intact, awake, sane, uninfected, and uninfested in the bizarre and extreme circumstances of war.
Grunt tackles the science behind some of a soldier's most challenging adversaries—panic, exhaustion, heat, noise—and introduces us to the scientists who seek to conquer them. Mary Roach dodges hostile fire with the U.S. Marine Corps Paintball Team as part of a study on hearing loss and survivability in combat. She visits the fashion design studio of U.S. Army Natick Labs and learns why a zipper is a problem for a sniper. She visits a repurposed movie studio where amputee actors help prepare Marine Corps medics for the shock and gore of combat wounds. At Camp Lemmonier, Djibouti, in east Africa, we learn how diarrhea can be a threat to national security. Roach samples caffeinated meat, sniffs an archival sample of a World War II stink bomb, and stays up all night with the crew tending the missiles on the nuclear submarine USS Tennessee. She answers questions not found in any other book on the military: Why is DARPA interested in ducks? How is a wedding gown like a bomb suit? Why are shrimp more dangerous to sailors than sharks? Take a tour of duty with Roach, and you'll never see our nation's defenders in the same way again.
Praise for Grunt: The Curious Science of Humans at War
A mirthful, informative peek behind the curtain of military science.
— Washington Post
From the ever-illuminating author of Bonk and Stiff comes an examination of the science behind war. Even the tiniest minutiae count on the battlefield, and Roach leads us through her discoveries in her inimitable style.
— Elle
Our most consistently entertaining science journalist…Roach goes where other writers wouldn't dare….And her search produces images—a kind of technopoetry—that are hard to forget.
— O Magazine
[Roach] takes on the challenges the military faces to keep its fighters safe and healthy with her trademark flair (and zingy footnotes).
— Entertainment Weekly
Roach is a tenacious investigative journalist with an appetite for the unappetizing...Grunt ranks high in the Roach repertoire.
— USA Today
Mary Roach's latest bit of brilliance….As meticulously researched, beautifully written, and disturbingly funny as her previous books…Grunt examines the science behind war, as well as the researchers who are leading the charge in these state-of- the-art developments. Roach's prose is a triumph—an engaging blend of anecdote, research, and reflection.
— Boston Globe
[Roach] writes exquisitely about the excruciating….wildly informative and vividly written
— Los Angeles Times
Nobody
does weird science quite like [Roach], and this time, she takes on war. Though
all her books look at the human body in extreme situations (sex! space!
death!), this isn't simply a blood-drenched affair. Instead, Roach looks at the
unexpected things that take place behind the scenes.
— Wired
Roach...applies her tenacious reporting and quirky point of view to efforts by scientists to conquer some of the soldier's worst enemies.
— Seattle Times
Extremely likable…and quick with a quip….[Roach's] skill is to
draw out the good humor and honesty of both the subjects and practitioners of
these white arts among the dark arts of war.
— San Francisco Chronicle
Covering these topics and more, Roach has done a fascinating job of
portraying unexpected, creative sides of military science.
— New York Post