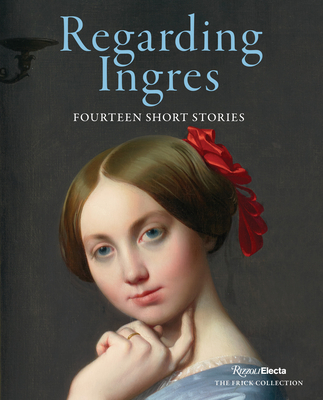 Regarding Ingres: Fourteen Short Stories
Publication Date:
March 14th, 2023
Publisher:
Rizzoli Electa
The MIT Press Bookstore
1 on hand, as of Dec 8 10:45am
(FIC)
On Our Shelves Now
Description
Talented emerging fiction writers find inspiration in one of the most famous paintings in New York's Frick Collection: Jean-August-Dominique Ingres's Comtesse d'Haussonville from 1845.
Following the successful literary musings on art at the Frick, The Sleeve Should Be Illegal and Cocktails with a Curator, this anthology of newly commissioned texts from graduate students in New York University's Creative Writing Program pays homage to one of the institution's most celebrated paintings.
Gathered here are fourteen fictional stories inspired by one of Ingres's most captivating portrait paintings. A detail of the work—the fine silk dress, a red ribbon, a shawl casually draped over the arm of a chair, the contents of a tabletop, the contemplative pose—is the starting point for each story. The pieces range from gothic tales that take place at the time of the painting in the mid-nineteenth century and stories that use the countess as a key character to a present-day ghost story and inventive sagas that take representations of the countess to faraway lands: Poland, Trinidad and Tobago, Brazil, India, and a heaven that is populated solely by Black people.
The faculty adviser for the project is best-selling novelist Darin Strauss, who writes the book's introduction. Illustrated with Ingres's famous portrait as well as with many lush details, this one-of-a-kind volume is an ode, both traditional and postmodern, to a glorious work of art.
Praise for Regarding Ingres: Fourteen Short Stories
"This anthology collects short fiction written by students in New York University's graduate creative writing program, all drawing inspiration from Jean-August-Dominique Ingres's [Comtesse d'Haussonville' (1845)."—THE NEW YORK TIMES BOOK REVIEW
"Here is a collection of love stories, of sorts, about one of the most adored portraits in New York's Frick Collection. The alluring image of the Comtesse d'Haussonville, by Ingres, is the inspiration for 14 fictional stories by talented graduate students in New York University's Creative Writing Program. You'll be as entranced by the tales told as you will be by the enduring painting of the woman." —MILIEU MAGAZINE
"Comments Xavier F. Salomon, Deputy Director and Peter Jay Sharp Chief Curator of the Frick, 'We are so proud to welcome fresh perspectives on works in our collection, and this collaboration with emerging fiction writers from NYU has been a deeply rewarding project. This collection of stories is sure to bring renewed attention to a particularly beloved work in our holdings.' Adds Strauss, 'It's thrilling to see the great work of an Old Master reinterpreted in adventurous new work by young writers.'" —ARTDAILY.COM
"This project underscores the need to continually contextualize Old Master paintings, making art history accessible, intriguing, and meaningful to future generations. These paintings tell critical stories of the past that help guide us through the cultural landscape, and new interpretations and explorations are vital to their legacies. Art history is history. It tells stories of people, rich and poor, famous and unknown beyond their depiction in an artwork, revealing what matters about humanity." —FORBES