Discounted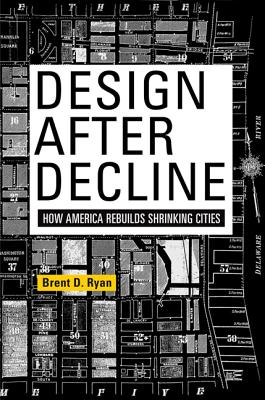 Design After Decline: How America Rebuilds Shrinking Cities (City in the Twenty-First Century)
Previous price:

$34.95
Current price:

$29.95
Publication Date:
March 20th, 2014
Publisher:
University of Pennsylvania Press
The MIT Press Bookstore
1 on hand, as of Nov 30 10:32am
(MITA)
On Our Shelves Now
Description
Design After Decline How America Rebuilds Shrinking Cities Brent D. Ryan Named one of Planetizen's Top 10 Books for 2013 "A great read, a valuable contribution to current planning discourses on shrinking cities. This is a book that will be noticed not only in the United States but also abroad."--Journal of the American Planning Association "Brent D. Ryan has produced a well-written and well-researched narrative about the development of many older American cities. Especially, the case studies about Detroit and Philadelphia are as interesting to read as they are well documented."--Journal of Housing and the Built Environment "Design After Decline is an important addition to the study of urbanism 'after the fall.' Ryan brings to this surprisingly little-researched topic an impressive expertise in planning as well as a belief in the social impact of good urban design. As he shows, the many failures and few hard-won victories of late twentieth-century urbanism must be understood if we are to recover a genuine American urbanism in the course of the twenty-first century."--Robert Fishman, University of Michigan Almost fifty years ago, America's industrial cities--Detroit, Philadelphia, Cleveland, Baltimore, and others--began shedding people and jobs. Today they are littered with tens of thousands of abandoned houses, shuttered factories, and vacant lots. With population and housing losses continuing in the wake of the 2007 financial crisis, the future of neighborhoods in these places is precarious. How we will rebuild shrinking cities and what urban design vision will guide their future remain contentious and unknown. In Design After Decline, Brent D. Ryan reveals the fraught and intermittently successful efforts of architects, planners, and city officials to rebuild shrinking cities following mid-century urban renewal. With modern architecture in disrepute, federal funds scarce, and architects and planners disengaged, politicians and developers were left to pick up the pieces. In twin narratives, Ryan describes how America's two largest shrinking cities, Detroit and Philadelphia, faced the challenge of design after decline in dramatically different ways. While Detroit allowed developers to carve up the cityscape into suburban enclaves, Philadelphia brought back 1960s-style land condemnation for benevolent social purposes. Both Detroit and Philadelphia "succeeded" in rebuilding but at the cost of innovative urban design and planning. Ryan proposes that the unprecedented crisis facing these cities today requires a revival of the visionary thinking found in the best modernist urban design, tempered with the lessons gained from post-1960s community planning. Depicting the ideal shrinking city as a shifting patchwork of open and settled areas, Ryan concludes that accepting the inevitable decline and abandonment of some neighborhoods, while rebuilding others as new neighborhoods with innovative design and planning, can reignite modernism's spirit of optimism and shape a brighter future for shrinking cities and their residents. Brent D. Ryan is Associate Professor of Urban Design and Public Policy at the Massachusetts Institute of Technology. The City in the Twenty-First Century 2012 280 pages 6 x 9 57 illus. ISBN 978-0-8122-4407-6 Cloth $45.00s 29.50 ISBN 978-0-8122-2304-0 Paper $29.95s 19.50 ISBN 978-0-8122-0658-6 Ebook $29.95s 19.50 World Rights Public Policy, Architecture Short copy: In Design After Decline, Brent D. Ryan chronicles the fraught and intermittently successful rebuilding of Detroit and Philadelphia in recent decades, concluding that small-scale strategies must give way to a revived combination of innovative urban design and social planning.