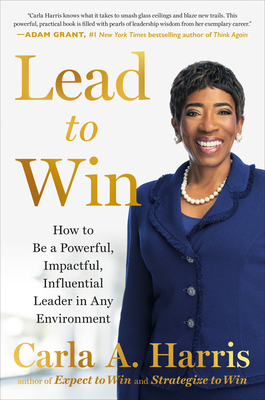 Lead to Win: How to Be a Powerful, Impactful, Influential Leader in Any Environment
Publication Date:
September 13th, 2022
The MIT Press Bookstore
1 on hand, as of Dec 8 10:45am
(BUSIN)
On Our Shelves Now
Description
The author of Expect To Win and Strategize To Win steps out with dynamic strategies for leaders of today and tomorrow.
Work has undergone a sea change, introducing a new matrix of concerns and questions for leaders and potential leaders. What does it take to lead effectively now? What does leadership even mean?
 
In this much-needed book, powerhouse Carla A. Harris examines the journey from individual contributor to leader. She targets the essential skills necessary to succeed, such as the importance of taking risks, creating a vision, and leveraging assets like relationships and partnerships. At the heart of this book are the eight things you must be intentional about every day—authenticity, building trust, creating other leaders, clarity, diversity, innovation, inclusivity, and voice—qualities that you need to hone and manifest to become a powerful, impactful leader no matter where you work. She also examines the key traits of being a transformational leader, focusing on the gaps she has seen in leadership that could impede or damage any leader's effectiveness.
Timely, inspiring, and filled with Harris's trademark practical advice, Lead to Win will become a touchstone for anyone looking to influence and lead others to make positive change.
Praise for Lead to Win: How to Be a Powerful, Impactful, Influential Leader in Any Environment
"Our world has changed — and so must the way we lead. Thank goodness, then, for Carla Harris. In this powerful book, she draws on the wisdom accumulated during her own astonishing career to illuminate how leaders can become more intentional, effective, and transformative."
—Daniel H. Pink, #1 New York Times bestselling author of THE POWER OF REGRET, DRIVE, and TO SELL IS HUMAN

"Carla Harris knows what it takes to smash glass ceilings and blaze new trails. This powerful, practical book is filled with pearls of leadership wisdom from her exemplary career."
illuminate how leaders can become more intentional, effective, and transformative."
—Adam Grant, #1 New York Times bestselling author of THINK AGAIN
"In contrast to people that study leadership, Carla's "pearls" of intentional leadership is based on her personal experience and working with industry leaders as they raised capital in dynamic, competitive operational environments. Her insights and tactics will be very valuable contributions to evolving leaders at various stages of their development."
—Dr. James Cash, Professor Emeritus, Harvard Business School
 
"In Lead To Win, Carla Harris shares her battle- tested "Pearls of Wisdom" for powerful leadership in the 21st Century,  pandemic impacted environment. Her focus on the pearls of Intentional Leadership is thoughtful,  practical,  and executable.  This book offers a recipe for leadership success if you are already sitting in the C-suite, a founder of an early stage company,  or someone aspiring to lead others in any venue. An insightful add to your must-read list."
—Robin L. Washington, Board Director, Salesforce, Honeywell, and Alphabet, former CFO, Gilead Sciences
 
"Carla Harris' new book, Lead to Win, is bound to be a foundational playbook for executives who are on the development path to transformative leadership. Both tactical and pragmatic, and based on her decades of experience in competitive industries, Carla's advice and guidance, and the invaluable leadership "gems" of wisdom along the way, are a roadmap for all those on the journey from management to leadership.  It is a 'must-read' for all organizational leaders who understand the importance of moving beyond execution to empowerment."
—Gaby Sulzberger, Chairman ESG, Teneo
 
 "A gifted and charismatic executive, Carla Harris oozes can-doisms. But in Lead to Win, she also offers the kind of candor, foresight, and unflinching reflection these uncertain and challenging times call for, delivering a playbook for successfully navigating a business landscape that is unlike any we've known before.  
—Caroline Clarke, author, Take a Lesson: Black Achievers on How They Made It and What They Learned Along the Way, co-founder, Black Enterprise Women of Power
 
 "The rules for impactful leadership have changed and at this time, leaders will have to listen, be engaged and prone to action like never before. In Lead To Win, Carla Harris gives you the playbook to steer through this transformative time in the workplace so that you can lead and win!"
--Shellye Archambeau, Fortune 500 board director and Author of Unapologetically Ambitious

"Becoming a growth organization requires outstanding leadership. With Lead to Win, Carla Harris provides a powerful guide for executives seeking to develop leaders who are able to make a significant impact at their company. Harris reinforces the importance of transparency, empathy, and the ability to transform people as the key to leadership of today."
—Mike Hyter, President and CEO, The Executive Leadership Council
 
"Carla Harris has written a blueprint of how to lead in the times that we are in. Her pearls of Authenticity, Building Trust, Diversity and Innovation, and Voice are especially relevant today. She inspires leaders to be transformational and inclusive, while being powerful and effective. "
—Hope Knight, Senior Corporate and Government Executive