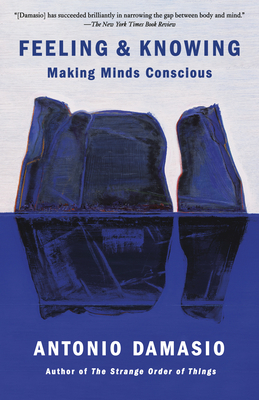 Feeling & Knowing: Making Minds Conscious
Publication Date:
November 8th, 2022
Usually Ships in 1 to 5 Days
Description
From one of the world's leading neuroscientists: a succinct, illuminating, wholly engaging investigation of how biology, neuroscience, psychology, and artificial intelligence have given us the tools to unlock the mysteries of human consciousness
"One thrilling insight after another ... Damasio has succeeded brilliantly in narrowing the gap between body and mind." —The New York Times Book Review
In recent decades, many philosophers and cognitive scientists have declared the problem of consciousness unsolvable, but Antonio Damasio is convinced that recent findings across multiple scientific disciplines have given us  a way to understand consciousness and its significance for human life.  
In the forty-eight brief chapters of Feeling & Knowing, and in writing that remains faithful to our intuitive sense of what feeling and experiencing are about, Damasio helps us understand why being conscious is not the same as sensing, why nervous systems are essential for the development of feelings, and why feeling opens the way to consciousness writ large. He combines the latest discoveries in various sciences with philosophy and discusses his original research, which has transformed our understanding of the brain and human behavior.
 
Here is an indispensable guide to understand­ing how we experience the world within and around us and find our place in the universe.
Praise for Feeling & Knowing: Making Minds Conscious
"Here the master scientist unites with the silken prose-stylist to produce one thrilling insight after another . . . Damasio has succeeded brilliantly in narrowing the gap between body and mind."
—The New York Times Book Review
"Damasio's concise, precise, and lucid prose effectively convey the core insight he has distilled over decades (2): that affect—encompassing, emotions, feelings, motivations, and moods—is central to understanding what we do, how we think, and who we are."
—Science
"Damasio writes lucid prose clearly addressed to a popular audience. Even better, the book is concise and helpfully divided into dozens of short chapters, many only one or two pages. Make no mistake, however; Damasio is a deep thinker familiar with multiple disciplines, and this is as much a work of philosophy as hard science. Readers familiar with college level psychology and neuroscience will discover rewarding insights."
—Kirkus Reviews

"So much of what novelists and poets write about touches on the centrality of feeling, especially on the polar opposites of feeling joy or suffering. I think great books, and movies too, touch on humanity so deeply. Their topics are the ones I chose for my research."
—The Boston Globe
 
"There is something seductive about the succinct, almost literary, chapters and Damasio's unabashed wonder at and reverence for the concept of consciousness—although he believes it can be explained using the disciplines known to us, he is no less in awe of its mechanisms. It is clear, for example, that Damasio holds in reverence the fact that our bodies can both experience feelings and modify those feelings within the same vessel. And often, this awe shines through in charming, allusive, whimsical sentences."
—Undark