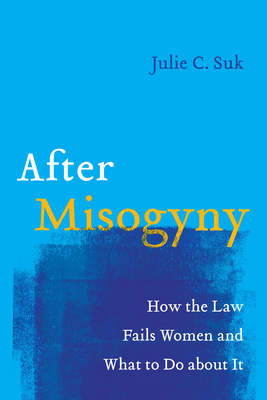 After Misogyny: How the Law Fails Women and What to Do about It
Publication Date:
April 11th, 2023
Publisher:
University of California Press
The MIT Press Bookstore
1 on hand, as of Nov 29 10:27am
(SS:GS)
On Our Shelves Now
Description
A rigorous analysis of systemic misogyny in the law and a thoughtful exploration of the tools needed to transcend it through constitutional change beyond litigation in the courts.
 
Just as racism is embedded in the legal system, so is misogyny—even after the law proclaims gender equality and criminally punishes violence against women. In After Misogyny, Julie C. Suk shows that misogyny lies not in animus but in the overempowerment of men and the overentitlement of society to women's unpaid labor and undervalued contributions. This is a book about misogyny without misogynists.
 
From antidiscrimination law to abortion bans, the law fails women by keeping society's dependence on women's sacrifices invisible. Via a tour of constitutional change around the world, After Misogyny shows how to remake constitutional democracy. Women across the globe are going beyond the antidiscrimination paradigm of American legal feminism and fundamentally resetting baseline norms and entitlements. That process, what Suk calls a "constitutionalism of care," builds the public infrastructure that women's reproductive work has long made possible for free.
About the Author
Julie C. Suk is Professor of Law at Fordham University School of Law and author of We the Women: The Unstoppable Mothers of the Equal Rights Amendment. She is a leading expert on gender and constitutional law in the United States and around the world.
Praise for After Misogyny: How the Law Fails Women and What to Do about It
"In this intriguing scholarly treatise, Fordham University law professor Suk (We the Women) documents how the law protects men's 'overentitlement' and 'overempowerment' and examines efforts to correct the problem through constitutional reform. . . . a well-informed and actionable diagnosis of one of society's most persistent ills"
 
— Publishers Weekly
"'This world has always belonged to males, and none of the reasons given for this have ever seemed sufficient,' Simone de Beauvoir wrote in her 1949 foundational text, The Second Sex. The spirit of de Beauvoir pervades After Misogyny, a provocative new book by Julie C. Suk, a professor at Fordham University School of Law. . . . Credit is due to Suk for detailing how progress has been accomplished in other countries, and for inviting us to think about how true gender equality can be achieved—after misogyny."
— Ms. Magazine