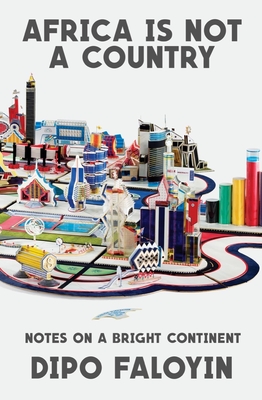 Africa Is Not a Country: Notes on a Bright Continent
Publication Date:
September 6th, 2022
Publisher:
W. W. Norton & Company
The MIT Press Bookstore
1 on hand, as of Nov 30 10:32am
(SS)
On Our Shelves Now
Description
A Literary Hub Most Anticipated Book of 2022
An exuberant, opinionated, stereotype-busting portrait of contemporary Africa in all its splendid diversity, by one of its leading new writers.
So often, Africa has been depicted simplistically as a uniform land of famines and safaris, poverty and strife, stripped of all nuance. In this bold and insightful book, Dipo Faloyin offers a much-needed corrective, weaving a vibrant tapestry of stories that bring to life Africa's rich diversity, communities, and histories.
Starting with an immersive description of the lively and complex urban life of Lagos, Faloyin unearths surprising truths about many African countries' colonial heritage and tells the story of the continent's struggles with democracy through seven dictatorships. With biting wit, he takes on the phenomenon of the white savior complex and brings to light the damage caused by charity campaigns of the past decades, revisiting such cultural touchstones as the KONY 2012 film. Entering into the rivalries that energize the continent, Faloyin engages in the heated debate over which West African country makes the best jollof rice and describes the strange, incongruent beauty of the African Cup of Nations. With an eye toward the future promise of the continent, he explores the youth-led cultural and political movements that are defining and reimagining Africa on their own terms.
The stories Faloyin shares are by turns joyful and enraging; proud and optimistic for the future even while they unequivocally confront the obstacles systematically set in place by former colonial powers. Brimming with humor and wit, filled with political insights, and, above all, infused with a deep love for the region, Africa Is Not a Country celebrates the energy and particularity of the continent's different cultures and communities, treating Africa with the respect it deserves.
Praise for Africa Is Not a Country: Notes on a Bright Continent
[An] acerbic debut…Faloyin is bent on examining and demolishing [stereotypes about Africa], a task he carries out with verve.
— Michela Wrong - New York Times
Faloyin [is] a smart, often scathingly funny writer…While much of the history of Western involvement in Africa is sordid and depressing, Africa Is Not a Country is not. It brims with the sort of outrage that speaks of hope, of change.
— Bookpage (starred review)
With clarity and incisive wit, journalist Faloyin explores the origins of the 54 countries of Africa…Africa Is Not a Country [is] a forceful rebuttal of erased histories and simplified imagery as well as a celebration of a continent already living its dynamic future.
— Booklist (starred review)
A spirited critique of Western misrepresentations of Africa…[E]xuberant and informative.
— Publishers Weekly
Trenchant…A well-researched, cleareyed deconstruction of highly flawed conventional wisdom about Africa.
— Kirkus Reviews
A necessary book that deserves its place in the canon as essential reading for anyone seeking an introduction to this vast continent—as well as the rest of us, who need to be regularly challenged on what we think we know about Africa and the damage done by that.
— Sally Hayden - Irish Times
Warm, funny, biting and essential reading.
— Adam Rutherford, author of How to Argue With a Racist
A brilliant, prescient exploration of a richly complex continent. An antidote for our times.
— Irenosen Okojie, author of Nudibranch
This book is hilarious, ferocious, generous, and convincing. It made me reconsider almost everything I thought I knew about Africa, which is somewhere we often hear about, but far too rarely hear from.
— Oliver Bullough, author of Moneyland
An impeccably researched work, brimming with humor and intellect. A necessary read for 2022.
— J K Chukwu, author of The Unfortunates
A triumph of a book. A charismatic and hugely enjoyable read packed full of essential information—revealing a huge, vastly diverse set of stories, situations, and histories that really do pop the balloon of lazy stereotyping of Africa. You'd be doing yourself a disservice if you didn't read this book.
— Nels Abbey, coauthor of Think Like a White Man
This book should be on the curriculum.
— Nikki May, author of Wahala