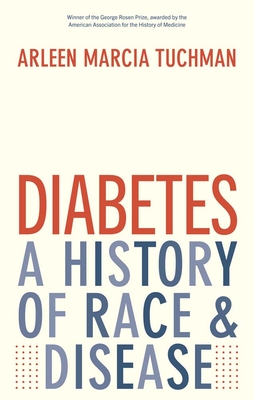 Diabetes: A History of Race and Disease
Publication Date:
September 12th, 2023
Publisher:
Yale University Press
The MIT Press Bookstore
1 on hand, as of Dec 8 10:45am
(BIOMD)
On Our Shelves Now
Description
Who gets diabetes and why? An in‑depth examination of diabetes in the context of race, public health, class, and heredity
"[An] unsettling but insightful social history."—Kirkus Reviews
"The important lessons of Diabetes: A History of Race and Disease may strengthen organized medicine's commitment to addressing social determinants of health and equity."—David Goldberg, Health Affairs
Who is considered most at risk for diabetes, and why? In this thorough, engaging book, historian Arleen Tuchman examines and critiques how these questions have been answered by both the public and medical communities for over a century in the United States.
Beginning in the late nineteenth century, Tuchman describes how at different times Jews, middle‑class whites, American Indians, African Americans, and Hispanic Americans have been labeled most at risk for developing diabetes, and that such claims have reflected and perpetuated troubling assumptions about race, ethnicity, and class. She describes how diabetes underwent a mid-century transformation in the public's eye from being a disease of wealth and "civilization" to one of poverty and "primitive" populations.
In tracing this cultural history, Tuchman argues that shifting understandings of diabetes reveal just as much about scientific and medical beliefs as they do about the cultural, racial, and economic milieus of their time.
Praise for Diabetes: A History of Race and Disease
"Arleen Marcia Tuchman convincingly shows in her illuminating book Diabetes: A History of Race and Disease . . . [the] deep roots in the medical establishment's dark bigotry concerning the origins of the disorder."—Jerome Groopman, New York Review of Books
"A well-researched, lucidly written, and often unnerving account of how doctors have explained [diabetes] down to the present day, often ignoring the science in favor of the prejudices and anxieties of their time. . . . [An] unsettling but insightful social history."—Kirkus Reviews
"The important lessons of Diabetes: A History of Race and Disease may strengthen organized medicine's commitment to addressing social determinants of health and equity."—David Goldberg, Health Affairs
"Through her meticulous chronological approach, the author shows us that the 150-year history of diabetes has been defined by 'a mix of careful observations and unfounded assumptions and speculations' regarding race—throwing into question our own unconscious assumptions, and with them our ability to interpret data independently of these beliefs."—Jennifer Throley, The Lancet
"A thoroughly researched book showing evidence that prejudiced researchers reinforced stereotypes about the genetics of various racial groups, sabotaging their care over the decades."—Craig Idlebrook, Healthline
"Public health studies, which appear throughout the book, present an ironic and cautionary tale about the use of racial categories in epidemiology. . . . For shining a light on this dilemma, and for many other illuminating observations, this book comes highly recommended."—Chris Feudtner, Social History of Medicine
"Provid[es] insight into how social assumptions about racial and class difference drive explanatory frameworks for health and disease. . . . [An] accessible, persuasive history."—Lundy Braun, Isis
Winner of the George Rosen Prize, sponsored by American Association for the History of Medicine
Won the PROSE award, History of Science, Medicine, and Technology, sponsored by the Association of American Publishers
"Arleen Tuchman's Diabetes is a remarkable work, a fascinating history of how a disease is understood, medically and socially, illuminated by an understanding of the strange and shifting perspectives of race and racism."—Perri Klass, author of A Good Time to Be Born: How Science and Public Health Gave Children a Future
"This is a superb, deeply researched history of the role of racism and class bias in perceptions of type 2 diabetes. Its root causes? Poverty and discrimination—a new vision for a prevention agenda."—Marion Nestle, author of Food Politics
"This landmark study not only reveals the history of Type 2 diabetes, which may well become the most important disease of twenty-first-century America, but also shows us how it has been associated with various ethnicities from the beginning of its recognition."—Margaret Humphreys, author of Marrow of Tragedy: The Health Crisis of the American Civil War
"In this careful study of disease, difference, and disparity, Arleen Tuchman has made a lasting contribution to the histories of science, medicine, race, and racism, with broad implications for American history and public health policy writ large."—Jeremy A. Greene, author of Prescribing by Numbers: Drugs and the Definition of Disease
"Meticulous, insightful research reveals diabetes to have become not one, but many diseases based on the perceived race, culture, and responsibility of sufferers, its innocent or guilty victims."—Jacalyn Duffin, author of History Medicine: A Scandalously Short Introduction