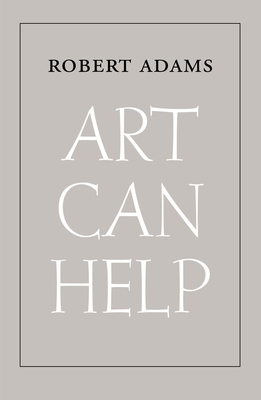 Art Can Help
Publication Date:
September 19th, 2017
Publisher:
Yale University Art Gallery
The MIT Press Bookstore
1 on hand, as of Nov 30 10:32am
(ART)
On Our Shelves Now
Description
In Art Can Help, the internationally acclaimed American photographer Robert Adams offers over two dozen meditations on the purpose of art and the responsibility of the artist. In particular, Adams advocates art that evokes beauty without irony or sentimentality, art that "encourages us to gratitude and engagement, and is of both personal and civic consequence." Following an introduction, the book begins with two short essays on the works of the American painter Edward Hopper, an artist venerated by Adams. The rest of this compilation contains texts—more than half of which have never before been published—that contemplate one or two works by an individual artist. The pictures discussed are by noted photographers such as Julia Margaret Cameron, Emmet Gowin, Dorothea Lange, Abelardo Morell, Edward Ranney, Judith Joy Ross, John Szarkowski, and Garry Winogrand. Several essays summon the words of literary figures, including Virginia Woolf and Czeslaw Milosz. Adams's voice is at once intimate and accessible, and is imbued with the accumulated wisdom of a long career devoted to making and viewing art. This eloquent and moving book champions art that fights against disillusionment and despair.
Distributed for the Yale University Art Gallery
About the Author
Robert Adams is an American artist, best known for his series of photographs that explore the urban and natural landscapes of the American West.
Praise for Art Can Help
"Robert Adams's photo practice reoriented landscape photography to the effects of man on the environment. In the essays collected in Art Can Help he shares his responses to other photographers' work. . . . About Terri Weifenbach's picture of a bumblebee in flight: 'What does the photographer help us find? First of all, astonishment.'"—William Meyers, Wall Street Journal (Holiday Gift Book selection)
"An invigorating response to a waxing cultural despair over the state of the world and our dubious agency in it. . . . quietly powerful . . . graceful . . . captivating [and] important . . . [Adams] wins the day not with heavy-handed insistence, but with an understated authority encompassing intelligence, wonderment, and a devotion to looking carefully and owning what he sees."—Karen Jenkins, Photo-Eye blog
"Tersely illuminating . . . Adams' sentences force one to slow down and listen."—Ron Slate, On the Seawall