Discounted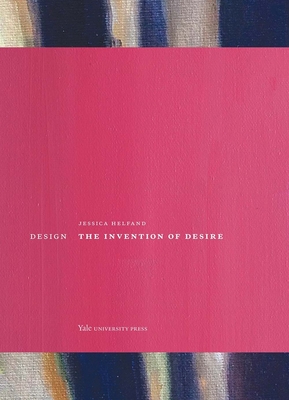 Design: The Invention of Desire
Previous price:

$28.00
Current price:

$26.00
Publication Date:
May 24th, 2016
Publisher:
Yale University Press
The MIT Press Bookstore
1 on hand, as of Dec 8 10:45am
(ART)
On Our Shelves Now
Description
A compelling defense for the importance of design and how it shapes our behavior, our emotions, and our lives
Design has always prided itself on being relevant to the world it serves, but interest in design was once limited to a small community of design professionals. Today, books on "design thinking" are best sellers, and computer and Web-based tools have expanded the definition of who practices design. Looking at objects, letterforms, experiences, and even theatrical performances, award-winning author Jessica Helfand asserts that understanding design's purpose is more crucial than ever. Design is meaningful not because it is pretty but because it is an intrinsically humanist discipline, tethered to the very core of why we exist. For example, as designers collaborate with developing nations on everything from more affordable lawn mowers to cleaner drinking water, they must take into consideration the full range of a given community's complex social needs. Advancing a conversation that is unfolding around the globe, Helfand offers an eye-opening look at how designed things make us feel as well as how—and why—they motivate our behavior.
Praise for Design: The Invention of Desire
"A thoughtful and necessary new book."—Allison Arieff, New York Times
"[Helfand] defines designing not merely as a technical problem-solving exercise but as a way to explore deeply human subjects like compassion, melancholy, solitude and change. Her poetic book, Design: The Invention of Desire, will inspire anyone who wants to understand this elusive creative process."—Michael Bierut, Wall Street Journal
"Jessica Helfand makes the case for design not as a skill or an industry but as an exploration of our humanity. She designs in order to see, and this smart and beautiful book looks inward as well as out."—James Gleick
"In an age marked by speed, impatience, and the giddy pursuit of objects, both actual and virtual, Jessica Helfand's Invention of Desire demands our attention. In her text she deftly explores the essences rather than surfaces of design, in particular the ethical responsibilities that attend every created thing. Punctuated by beautiful images made from histological samples of tissues, organs, bones, and nerves, this book insists on what is often forgotten: the shared human experience and its meaning for the world of design."—Siri Hustvedt
"Jessica Helfand looks at design as a deeply emotional experience, as a live wire on sensations, as an expression of what it means to be alive. This is truly intelligent writing."—Stefan Sagmeister
"In her extraordinary new paintings, Jessica Helfand finds the sweet spot between scientific certainty and formal abstraction. She invites us to consider the body, the self, and the mesmerizing biological wonders that unite us as a species. This is a remarkable body of work."—Laurie Simmons
"Compassion. Solitude. Memory. These are just a few of the topics explored in Jessica Helfand's glorious book. Deeply philosophical and humanistic, it is a beautifully articulated meditation of what it means to design and what it means to be alive."—Maira Kalman