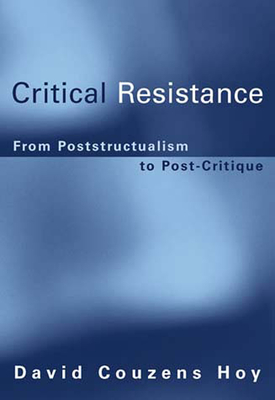 Critical Resistance: From Poststructuralism to Post-Critique
Publication Date:
August 12th, 2005
Publisher:
Bradford Books
Special Order - Subject to Availability
Description
This book serves as both an introduction to the concept of resistance in poststructuralist thought and an original contribution to the continuing philosophical discussion of this topic. How can a body of thought that mistrusts universal principles explain the possibility of critical resistance? Without appeals to abstract norms, how can emancipatory resistance be distinguished from domination? Can there be a poststructuralist ethics? David Hoy explores these crucial questions through lucid readings of Nietzsche, Foucault, Bourdieu, Derrida, and others. He traces the genealogy of resistance from Nietzsche's break with the Cartesian concept of consciousness to Foucault's and Bourdieu's theories of how subjects are formed through embodied social practices. He also considers Levinas, Heidegger, and Derrida on the sources of ethical resistance. Finally, in light of current social theory from Judith Butler to Slavoj Zizek, he challenges "poststructuralism" as a category and suggests the term "post-critique" as a more accurate description of contemporary Continental philosophy.
Hoy is a leading American scholar of poststructuralism. Critical Resistance is the only book in English that deals substantively with the topical concept of resistance in relation to poststructuralist thought, discussions of which have dominated Continental social thought for many years.