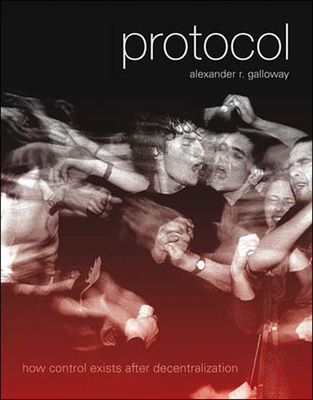 Protocol: How Control Exists after Decentralization (Leonardo)
Publication Date:
February 17th, 2006
Special Order - Subject to Availability
Description
How Control Exists after Decentralization
Is the Internet a vast arena of unrestricted communication and freely exchanged information or a regulated, highly structured virtual bureaucracy? In Protocol, Alexander Galloway argues that the founding principle of the Net is control, not freedom, and that the controlling power lies in the technical protocols that make network connections (and disconnections) possible. He does this by treating the computer as a textual medium that is based on a technological language, code. Code, he argues, can be subject to the same kind of cultural and literary analysis as any natural language; computer languages have their own syntax, grammar, communities, and cultures. Instead of relying on established theoretical approaches, Galloway finds a new way to write about digital media, drawing on his backgrounds in computer programming and critical theory. "Discipline-hopping is a necessity when it comes to complicated socio-technical topics like protocol," he writes in the preface.
Galloway begins by examining the types of protocols that exist, including TCP/IP, DNS, and HTML. He then looks at examples of resistance and subversion—hackers, viruses, cyberfeminism, Internet art—which he views as emblematic of the larger transformations now taking place within digital culture. Written for a nontechnical audience, Protocol serves as a necessary counterpoint to the wildly utopian visions of the Net that were so widespread in earlier days.
Praise for Protocol: How Control Exists after Decentralization (Leonardo)
An engaging methodological hybrid of the Frankfurt School and UNIX for Dummies.... Galloway brings the uncool question of morality back into critical thinking.—Ed Halter, The Village Voice—
Galloway is one of the very few people who are equally well versed in poststructuralist cultural theory and computer programming.
—Steven Shaviro, The Pinocchio Theory Weblog—
Protocol...is a book on computer science written by someone who's not a computer scientist, and that's a good thing.
—Gary Singh, Metro—