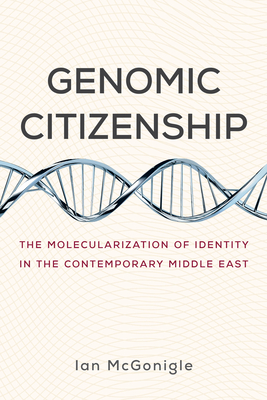 Genomic Citizenship: The Molecularization of Identity in the Contemporary Middle East
Publication Date:
August 24th, 2021
Special Order - Subject to Availability
Description
An anthropological study based on ethnographic work in Israel and Qatar explores the relationship between science, particularly genetics, and national identity.
Based on ethnographic work in Israel and Qatar, two small Middle Eastern ethnonations with significant biomedical resources, Genomic Citizenship explores the relationship between science and identity. Ian McGonigle, originally trained as a biochemist, draws on anthropological theory, STS, intellectual history, critical theory, Middle Eastern studies, cultural studies, and critical legal studies. He connects biomedical research on ethnic populations to the political, economic, legal, and historical context of the state; to global trends in genetic medicine; and to the politics of identity in the context of global biomedical research.
Genomic Citizenship is more an anthropology of scientific objects than an anthropology of scientists or an ethnography of the laboratory. McGonigle bases his untraditional project on traditional anthropological methods, including participant observation. Some of the most persuasive data in the book are from public records, legal and historical sources, published scientific papers, institutional reports, websites, and brochures.
McGonigle discusses biological understandings of Jewishness, especially in relation to the intellectual history of Zionism and Jewish political thought, and considers the possibility of a novel application of genetics in assigning Israeli citizenship. He also describes developments in genetic medicine in Qatar and analyzes the Qatari Biobank in the context of Qatari nationalism and state-building projects. Considering possible consequences of findings on the diverse origins of the Qatari population for tribal identities, he argues that the nation cannot be defined as either a purely natural or biological entity. Rather, it is reified, reinscribed, and refracted through genomic research and discourse.
Praise for Genomic Citizenship: The Molecularization of Identity in the Contemporary Middle East
"Genomic Citizenship provides an interesting account of the author's observations.... McGonigle provides detailed information about the sociocultural contexts of [Israel and Qatar] that make the respective ethnonational aspirations easier to understand."
—The Quarterly Review of Biology
 
"A valuable addition to the expanding scholarship on the entanglements of genetics and nationalism beyond Euro-America."
—American Journal of Sociology