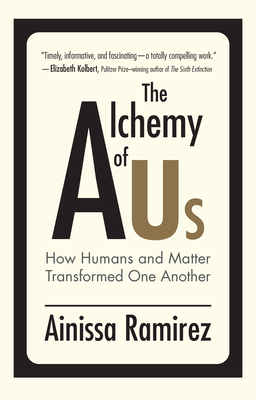 The Alchemy of Us: How Humans and Matter Transformed One Another
Publication Date:
April 6th, 2021
The MIT Press Bookstore
2 on hand, as of Dec 7 10:28am
(STS)
On Our Shelves Now
Description
In the bestselling tradition of Stuff Matters and The Disappearing Spoon: a clever and engaging look at materials, the innovations they made possible, and how these technologies changed us. Finalist for the 41st Los Angeles Times Book Award in Science and Technology and selected as one of the Best Summer Science Books Of 2020 by Science Friday. 
In The Alchemy of Us, scientist and science writer Ainissa Ramirez examines eight inventions--clocks, steel rails, copper communication cables, photographic film, light bulbs, hard disks, scientific labware, and silicon chips--and reveals how they shaped the human experience. Ramirez tells the stories of the woman who sold time, the inventor who inspired Edison, and the hotheaded undertaker whose invention pointed the way to the computer. She describes, among other things, how our pursuit of precision in timepieces changed how we sleep; how the railroad helped commercialize Christmas; how the necessary brevity of the telegram influenced Hemingway's writing style; and how a young chemist exposed the use of Polaroid's cameras to create passbooks to track Black citizens in apartheid South Africa. These fascinating and inspiring stories offer new perspectives on our relationships with technologies.
Praise for The Alchemy of Us: How Humans and Matter Transformed One Another
Winner of the Bronze Medal, Foreword Reviews Book Awards in the Science & Technology Category
Finalist for the 41st Los Angeles Times Book Award, in Science and Technology
Winner of the 2021 AAAS/Subaru Prize for Excellence in Science Books, Young Adult Science Book Winners
Winner, 2021 Sally Hacker Prize, Society for the History of Technology

A Science Friday Book Club Pick for November 2023

Selected as one of the Best Summer Science Books Of 2020 by Science Friday
Selected by Amazon as one of Top 20 Science Books of 2020
Selected as one of Smithsonian Magazine's 10 Best Science Books of 2020
Winner of the 2021 Connecticut Book Award for Nonfiction
Nominee for the 2021 Hurston/Wright Legacy Award


"Entertaining and elucidating—popular science done right, with enthusiasm and without dumbing-down."
—Kirkus Reviews, STARRED REVIEW
"By explaining how inventions both exotic and mundane transformed society, Ramirez's ingenious survey illuminates the effect of science in a manner accessible to a wide readership."
—Publishers Weekly
"[T]echnology buffs should appreciate Ramirez's efforts to raise the attention of issues impacting scientists, engineers, and technologists."
—Library Journal

"A fascinating new treatise" 
—Science
"Ramirez is one of those rare science writers who can take her material, present it in wholly unexpected ways, and in the process reshape a reader's fundamental understanding of a subject." 
—Undark Magazine
"The Alchemy of Us is a brilliant historical examination of inventions that have changed society, and was recently recommended by Ed Yong. Materials scientist Ainissa Ramirez does a truly tremendous job drawing connections between historical events and the materials that made them possible. Her storytelling is superb—this is the book you can easily lose yourself in, especially if you mostly read fiction and want to try nonfiction, but are worried about being bored. Ramirez language is active and accessible. But her book is timely, paying special attention to the ways in which race and privilege and sex have played roles in the invention of certain materials or objects and their uses and influence. We need more voices of Black science communicators like Ramirez to fill our bookshelves, and she is certain to inspire more."
—Science Friday

"Packed with engaging, little-known stories from the history of science, the book provides sharp, straightforward explanations of the materials science behind these tales." 
— Science News
"Material scientist Ainissa Ramirez offers up a highly readable exploration of how eight inventions—quartz clocks, steel rails, copper communication cables, silver photographic film, light bulbs, hard disks, labware and silicon chips—have both intentionally and inadvertently shaped our world." 
– Smithsonian Magazine

 "Enjoyable to a broad audience"
— Chemistry World
"We live in a world so dominated by our own inventions that, as Ainissa Ramirez observes, we've reinvented ourselves to accommodate them. The Alchemy of Us is at once timely, informative, and fascinating—a totally compelling work."
—Elizabeth Kolbert, Pulitzer Prize–winning author of The Sixth Extinction
 
"In The Alchemy of Us, Ainissa Ramirez tells the stories of the stuff that surrounds us in our modern world. Her tales are surprising, revealing, and delightfully told."
—Carl Zimmer, author of She Has Her Mother's Laugh: The Powers, Perversions, and Potential of Heredity
 
"In this timely and beautifully written book, Ainissa Ramirez shows how developments in materials science have shaped lives, nations, and diverse communities. As well as championing an often neglected but vital scientific discipline, it is a wonderful account of how science and technology affect us all and why we must be alert to their implications and consequences."
—Philip Ball. author of Beyond Weird and How to Grow a Human
 
"This book is full of interesting vignettes of inventions you might think you know about. However, you are unlikely to know the colorful histories of the people behind the stories or all the consequences of the inventions, as spelled out here."
—Professor Dame Athene Donald, Professor of Experimental Physics, University of Cambridge, and Master of Churchill College

"It's easy to find a book that recounts the society-shaping powers of important inventions, but much harder to find one that peels back the unintended consequences of those creations, and reveals the forgotten innovators who were part of their stories. It's fortunate, then, that Ainissa Ramirez has written exactly that book, and done so with such rich and compelling prose. The Alchemy of Us carries important lessons about the cost of progress, the nature of invention, and importance of diversity. It's an important read in a time of upheaval."
—Ed Yong, author of I Contain Multitudes

"A fascinating rumpus-room of a book, crowded with nook-and-cranny history you never knew, about unsung inventors and their world-changing endeavors. If you love whodunits, unintended consequences, eureka moments (or what technology may be doing to you, even as you read these words), then this is the book for you."
—James Burke, filmmaker and author of Connections

"Technology and inventions are changing our lives, but we less often appreciate how they are literally changing us—the ways that we talk, see, and think. In this engaging book, Ainissa Ramirez uncovers the stories of these changes and the people who made them happen."
—Sean Carroll, author of Something Deeply Hidden