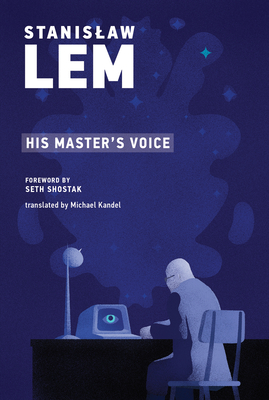 His Master's Voice
Publication Date:
February 18th, 2020
The MIT Press Bookstore
3 on hand, as of Sep 21 10:34am
(SCIFI)
On Our Shelves Now
Description
From the critically acclaimed author of Solaris comes a classic sci-fi tale about scientists who must decode a message from intelligent beings in outer space—for fans of Arrival
 
By pure chance, scientists detect a signal from space that may be communication from rational beings. How can people of Earth understand this message, knowing nothing about the senders—including whether or not they even exist?
 
Written as the memoir of a mathematician who participates in the government project (code name: His Master's Voice) attempting to decode what seems to be a message from outer space, this classic novel shows scientists grappling with fundamental questions about the nature of reality, the confines of knowledge, the limitations of the human mind, and the ethics of military-sponsored scientific research.
Praise for His Master's Voice
"Such deadly wit, such deadly playful tightrope walking . . . a modern European version of Swift or Voltaire."
—Peter S. Beagle, The New York Times
"In a cycle of melancholy sci-fi novels written in the late nineteen-fifties and sixties—Eden, Solaris, Return from the Stars, Memoirs Found in a Bathtub, The Invincible, and His Master's Voice—Lem suggested that life in the future, however remote the setting and however different the technology, will be no less tragic. Astronauts disembark from a spaceship into the aftermath of an atrocity; scientists face an alien intelligence so unlike our own that their confidence in the special purpose of human life falters. Lem was haunted by the idea that losses can overwhelm the human capacity to apprehend them."
—The New Yorker
"Fourteen years after his death, the universe is still struggling to catch up with the vast creative force that was Stanisław Lem. And for my money, it won't be surpassing him anytime soon . . . Enjoying the genius of Lem requires readerly dexterity and a willingness to go wherever the author takes you . . . These marvelous, absorbing and often hilarious books make our weary universe seem pale and undistinguished by comparison."
—The Washington Post
"The release of these new volumes seems to expand the possibilities of what a university publisher can do." 
—LitHub
"This thorough, intellectual take on a classic hard sci-fi trope is Lem at his best."
—Publishers Weekly, starred review