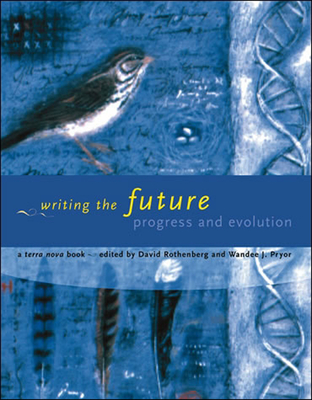 Writing the Future: Progress and Evolution (Terra Nova Books Series)
Publication Date:
April 30th, 2004
Usually Ships in 1 to 5 Days
Description
Through essays, poetry, stories, and images, writers and artists offer their perceptions of how we fit into the world and where we might be headed.
The theory of evolution connects us to the natural world, explaining how and why we are a part of nature. The idea of progress, on the other hand, projects a destination. "If nature can supply wonderfully elegant solutions to the problem of survival by trying out test models derived solely by chance, then surely it's possible for us to find our way forward," write David Rothenberg and Wandee Pryor, setting the terms of the discussion. But is society going somewhere in particular? Is nature improving? The stories, poems, essays, and artwork in Writing the Future examine the concepts of evolution and progress through a variety of artistic and scientific lenses and speculate on how these ideas can help us appreciate our place in the world.
The first section of the book, "Science, Mustard, Moths," looks at evolution's founding concepts and personalities, and includes Theodore Roszak's challenge to a Darwinian orthodoxy, which he traces back to another pioneering theorist, Alfred Russel Wallace. The second section, "Steps from the Cave," focuses on human change, and features Ellen Dissanayake's unusual look at prehistoric cave paintings in France, poetry by John Canaday, and a richly layered short story by Floyd Skloot. The third section, "Places in Time," moves outward to examine the world evolving and includes a reminiscence by Leslie Van Gelder of growing up "in the church of Darwin" and Eva Salzman's account of an infinitely reverberating walk through a Long Island neighborhood. In the fourth section, "Getting to the Future," the writers consider different manifestations of progress: Katherine Creed Page examines a "future perfect" through reproductive technology, Kevin Warwick reports on linking his nervous system to a computer by means of a small electronic circuit implanted under his skin, and Joan Maloof meditates on our possible future "de-evolution"—an abdication of our dominating role and gradual return to nature—which brings the book full circle.
About the Author
Musician and philosopher David Rothenberg is the author of Why Birds Sing, Bug Music, Survival of the Beautiful, and many other books, published in at least eleven languages. His more than twenty CDs include One Dark Night I Left My Silent House and, most recently, Berlin Bülbul and Cool Spring. He has performed or recorded with Pauline Oliveros, Peter Gabriel, Scanner, Elliott Sharp, and Suzanne Vega. Nightingales in Berlin is his latest book, CD, and film. A 2019 Safina Center Fellow, he is Distinguished Professor at the New Jersey Institute of Technology.
Wandee J. Pryor is former Managing Editor of Terra Nova projects at the New Jersey Institute of Technology.
Praise for Writing the Future: Progress and Evolution (Terra Nova Books Series)
...[A] book that will delight the reader...an exemplary anthology.—William Kowinski , San Francisco Chronicle—
The strength of these pieces lies in their powerful sense of place, binding diverse human activities to their natural context.
—Elizabeth Sourbut, New Scientist—