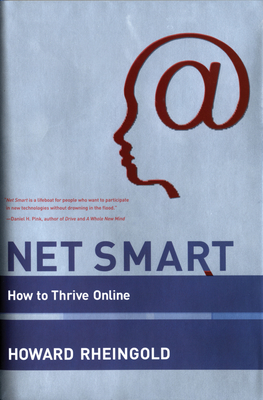 Net Smart: How to Thrive Online
Publication Date:
February 14th, 2014
Special Order - Subject to Availability
Description
A media guru shows us how to use social media intelligently, humanely, and, above all, mindfully.
Like it or not, knowing how to make use of online tools without being overloaded with too much information is an essential ingredient to personal success in the twenty-first century. But how can we use digital media so that they make us empowered participants rather than passive receivers, grounded, well-rounded people rather than multitasking basket cases? In Net Smart, cyberculture expert Howard Rheingold shows us how to use social media intelligently, humanely, and, above all, mindfully.
Mindful use of digital media means thinking about what we are doing, cultivating an ongoing inner inquiry into how we want to spend our time. Rheingold outlines five fundamental digital literacies, online skills that will help us do this: attention, participation, collaboration, critical consumption of information (or "crap detection"), and network smarts. He explains how attention works, and how we can use our attention to focus on the tiny relevant portion of the incoming tsunami of information. He describes the quality of participation that empowers the best of the bloggers, netizens, tweeters, and other online community participants; he examines how successful online collaborative enterprises contribute new knowledge to the world in new ways; and he teaches us a lesson on networks and network building.
Rheingold points out that there is a bigger social issue at work in digital literacy, one that goes beyond personal empowerment. If we combine our individual efforts wisely, it could produce a more thoughtful society: countless small acts like publishing a Web page or sharing a link could add up to a public good that enriches everybody.
Praise for Net Smart: How to Thrive Online
That Rheingold has written a smart and enjoyable guide is unsurprising....Rheingold does us an important service by offering a number of insights into, and strategies for, the 'net smarts' we need to function more efficiently in our increasingly online world.—James Hendler, Science—
Here, I'd point to the work of my friend Howard Rheingold and his new book Net Smart, which is an excellent guide for how to be a digitally fluent user of all the technologies we have available to us now. It's an excellent book and I think the FCC should include it in their plan for training the digital educators going into schools!
—Christopher Mims, Technology Review—
If you are going to purchase one book about using social media, this is the one to read. It's for people who want to go deeper and get practical know how, improved productivity, and integrate physical and virtual lives.
—Beth Kantor—