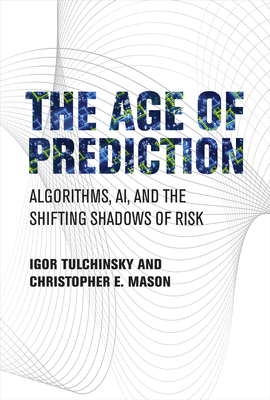 The Age of Prediction: Algorithms, AI, and the Shifting Shadows of Risk
Publication Date:
August 22nd, 2023
The MIT Press Bookstore
4 on hand, as of Dec 8 10:45am
(NEWM)
On Our Shelves Now
Description
The power of the ever-increasing tools and algorithms for prediction and their paradoxical effects on risk.
The Age of Prediction is about two powerful, and symbiotic, trends: the rapid development and use of artificial intelligence and big data to enhance prediction, as well as the often paradoxical effects of these better predictions on our understanding of risk and the ways we live. Beginning with dramatic advances in quantitative investing and precision medicine, this book explores how predictive technology is quietly reshaping our world in fundamental ways, from crime fighting and warfare to monitoring individual health and elections.
 
As prediction grows more robust, it also alters the nature of the accompanying risk, setting up unintended and unexpected consequences. The Age of Prediction details how predictive certainties can bring about complacency or even an increase in risks—genomic analysis might lead to unhealthier lifestyles or a GPS might encourage less attentive driving. With greater predictability also comes a degree of mystery, and the authors ask how narrower risks might affect markets, insurance, or risk tolerance generally. Can we ever reduce risk to zero? Should we even try? This book lays an intriguing groundwork for answering these fundamental questions and maps out the latest tools and technologies that power these projections into the future, sometimes using novel, cross-disciplinary tools to map out cancer growth, people's medical risks, and stock dynamics.
Praise for The Age of Prediction: Algorithms, AI, and the Shifting Shadows of Risk
Included in The Next Big Idea Club's August 2023 Must-Read Books list
Included in FT business books — what to read this month
"[An] ambitious new survey of how predictive algorithms are changing the world."
—Financial Times

"The authors' spirited dialogue illuminates their detailed survey of what predictive tech can do, from warfare to politics."
— New Scientist
  
"The Age of Prediction details how predictive certainties can bring about complacency or even an increase in risks"
—Daily Kos
  
"A brilliant analysis of two abstractions that are increasingly shaping our lives."  
—Blogging on Business
  
This is a mixed review, but here is a good pull quote "an engaging overview of just how rapidly our predictive powers are expanding."
—Law & Liberty
"[An] articulate book on how current and future artificial-intelligence algorithms will change apprehension of risk and affect human behavior." 
—Nature