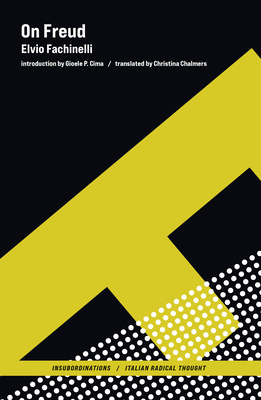 On Freud (Insubordinations: Italian Radical Thought)
Publication Date:
August 16th, 2022
The MIT Press Bookstore
2 on hand, as of Dec 7 10:28am
(PSYCH)
On Our Shelves Now
Description
Writings on Freud by Italy's leading psychoanalyst of the twentieth century.
Elvio Fachinelli was one of the most original and controversial Italian psychoanalysts of the twentieth century. He viewed psychoanalytic theory as inextricably linked to the concrete experience of everyday reality and as a crucial compass for understanding the social and political turmoil of his era. This compact volume collects Fachinelli's writing on Freud, offering readers both an accessible and engaging introduction to Freud's thinking and an overview of Fachinelli's own main ideas. Written between 1966 and 1989, these essays serve to introduce readers to some of the most provocative aspects of Fachinelli's critiques of psychoanalysis and society.
 
On Freud includes a long essay on Freud that weaves the theoretical foundations of psychoanalysis together with a surprising number of idiosyncratic observations about Freud the person. In it, Fachinelli offers a series of parallax perspectives: Freud the conquistador, who leads psychoanalysis to the exploration of new fields of knowledge; Freud the archaeologist, who discovers antithetical and incongruous elements in the territory of the unconscious; and Freud the Victorian, whose bourgeois values clashed with the revolutionary character of his discovery. Other essays include an assessment of psychoanalysis as a general social phenomenon that is increasingly showing its historical limits; a discussion of an encounter between Freud and the poet Rainer Maria Rilke; Fachinelli's pointed account of Freud's view of psychoanalysis for "the poor"; and an examination of the importance of the element of surprise—for both analyst and analysand—in analysis. Without surprise, Fachinelli writes, psychanalysis is just a "ministering and administering of knowledge, a repetition of the already known."
 
This edition includes an authoritative survey of Fachinelli's work and insight into how it continues to be relevant today.