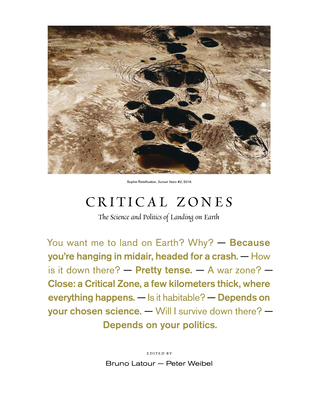 Critical Zones: The Science and Politics of Landing on Earth
Publication Date:
October 13th, 2020
Special Order - Subject to Availability
Description
Artists and writers portray the disorientation of a world facing climate change.
This monumental volume, drawn from a 2020 exhibition at the ZKM Center for Art and Media, portrays the disorientation of life in world facing climate change. It traces this disorientation to the disconnection between two different definitions of the land on which modernizing humans live: the sovereign nation from which they derive their rights, and another one, hidden, from which they gain their wealth—the land they live on, and the land they live from. Charting the land they will inhabit, they find not a globe, not the iconic "blue marble," but a series of critical zones—patchy, heterogenous, discontinuous.
With short pieces, longer essays, and more than 500 illustrations, the contributors explore the new landscape on which it may be possible for humans to land—what it means to be "on Earth," whether the critical zone, the Gaia, or the terrestrial. They consider geopolitical conflicts and tools redesigned for the new "geopolitics of life forms." The "thought exhibition" described in this book can opens a fictional space to explore the new climate regime; the rest of the story is unknown.
Contributors include
Dipesh Chakrabarty, Pierre Charbonnier, Emanuele Coccia, Vinciane Despret, Jerôme Gaillarde, Donna Haraway, Joseph Leo Koerner, Timothy Lenton, Richard Powers, Simon Schaffer, Isabelle Stengers, Bronislaw Szerszynski, Jan A. Zalasiewicz, Siegfried Zielinski
Copublished with ZKM | Center for Art and Media Karlsruhe
About the Author
Bruno Latour, a philosopher and anthropologist, is the author of We Have Never Been Modern, An Inquiry into Modes of Existence, Facing Gaia, Down to Earth, and many other books. He coedited (with Peter Weibel) the previous ZKM volumes Making Things Public, ICONOCLASH, and Reset Modernity! (all published by the MIT Press).
Peter Weibel is Chairman and CEO of the ZKM | Center for Art and Media Karlsruhe. With Bruno Latour, he coedited ICONOCLASH and Making Things Public as well as other ZKM volumes, including, most recently, Sound Art and Global Activism (all published by the MIT Press).
Praise for Critical Zones: The Science and Politics of Landing on Earth
A New York Times Best Art Book of 2020
"Critical Zones:The Science and Politics of Landing on Earth is therefore a remarkable oeuvre that guides us to landing, while fomenting critical and active thinking about the current crisis."
—Constança Babo, PhD candidate in New Media Art at Universidade Nova de Lusófona, with CIC.Digital / ICNOVA, research fellow at ZKM | Hertz-Lab for the project Beyond Matter; Journal of Science and Technology of the Arts, vol. 14