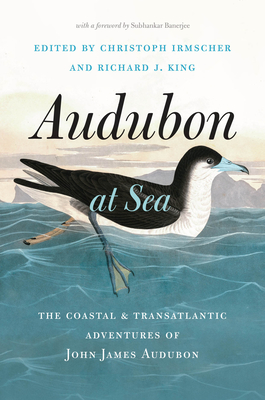 Audubon at Sea: The Coastal and Transatlantic Adventures of John James Audubon
Publication Date:
August 19th, 2022
Publisher:
University of Chicago Press
The MIT Press Bookstore
1 on hand, as of Nov 29 10:27am
(NATUR)
On Our Shelves Now
Description
This one-of-a-kind, lavishly illustrated anthology celebrates Audubon's connection to the sea through both his words and art.
 
The American naturalist John James Audubon (1785–1851) is widely remembered for his iconic paintings of American birdlife. But as this anthology makes clear, Audubon was also a brilliant writer—and his keen gaze took in far more than creatures of the sky. Culled from his published and unpublished writings, Audubon at Sea explores Audubon's diverse observations of the ocean, the coast, and their human and animal inhabitants. With Audubon expert Christoph Irmscher and scholar of the sea Richard J. King as our guides, we set sail from the humid expanses of the American South to the shores of England and the chilly landscapes of the Canadian North. We learn not only about the diversity of sea life Audubon documented—birds, sharks, fish, and whales—but also about life aboard ship, travel in early America, Audubon's work habits, and the origins of beloved paintings. As we face an unfathomable loss of seabirds today, Audubon's warnings about the fragility of birdlife in his time are prescient and newly relevant.
Charting the course of Audubon's life and work, from his birth in Haiti to his death in New York City, Irmscher and King's sweeping introduction and carefully drawn commentary confront the challenges Audubon's legacy poses for us today, including his participation in American slavery and the thousands of birds he killed for his art. Rounded out by hundreds of historical and ornithological notes and beautiful illustrations, and with a foreword by distinguished photographer and conservationist Subhankar Banerjee, Audubon at Sea is the most comprehensively annotated collection of Audubon's work ever published.
Praise for Audubon at Sea: The Coastal and Transatlantic Adventures of John James Audubon
"In a new selection of John James Audubon's oceangoing writings, we sense his obsessive quest to draw every bird he saw, even though he disliked being on the water. . . . Audubon at Sea . . . asks us to imagine this landsman 'challenged, on a deeply existential level, by an environment where he couldn't rely on the instincts that normally made him such an effective observer and hunter of birds.' The focus is on Audubon as writer as much as artist, and the effect is strange and powerful. The texts are impeccably edited by Christoph Irmscher and Richard J. King. (King selected them, Irmscher wrote the eloquent introduction and headnotes, and they collaborated on the wide-ranging notes.) . . . Despite Audubon's lapses into flowery overwriting, the extracts in this volume make for captivating reading, sweeping us from the reefs of the Florida Keys up the Atlantic Seaboard to the icy rocks of the Canadian Maritimes. Everywhere we feel the pressure of his obsessive quest to record and draw every bird he could, and his journals in particular expose all the moody complexity of a man Irmscher describes as 'passionate, outrageous, salty, vain, and brutal, despondent, vulnerable, sentimental, self-ironical, and tender.'"
— Jenny Uglow
"Audubon at Sea . . . uses the ornithologist's own words to force us to see him in a new light."
— Erin Blakemore
"While of course best-known for his definitive depictions of American birdlife, John James Audubon also wrote about his extensive travels at sea, from the American South to the shores of England and the frozen Canadian North. This is as much an ecological account as a narrative of his travels, however, with Audubon's concerns for the natural world still relevant today."
— Bookseller
"This book has amazing, fascinating, descriptive material, particularly from the coasts of America, and much perceptive insight into the lives of birds."
— Birdwatch
"The book comprises a series of extracts from Audubon's own writings and diaries, together with exquisite line drawings, and twenty color plates showing the finished paintings. Both his writings and illustrations reveal him to have been an acute and perceptive observer of the natural world. . . . Today, when so many of the marine and coastal species face threats from pollution, habitat loss, and the climate crisis, we can learn from this master of painting and prose."
— Country Life
"Audubon may be best known for his elegant illustrations of birds and animals, but he was also a colorful and talented writer, and a scientist, capable of keen observations. King and Irmscher have collected a selection of Audubon's lesser-known writings about seabirds and their watery environment, including his journal of a collecting voyage from Eastport, Maine, to Labrador. The editors give context to Audubon's work with essays and detailed footnotes about the man and his many contradictions, including mass killing of birds in order to preserve them."
— Maine Boats, Homes, and Harbors
"This is not a picture book, although there are plenty of Audubon's sketches and reproductions of his finished artwork in these pages. This is a book of Audubon's words, some of which were intended for publication and others which were more private jottings, or accounts meant for the later reading by his family. In our age, some of the accounts here would be Audubon's blog posts. . . . These 300+ pages are full of interest and I very much enjoyed them."
— Mark Avery
"Culled from John James Audubon's published and unpublished writings, Audubon at Sea explores Audubon's diverse observations of the ocean, the coast, and their human and animal inhabitants."
— Birdwatching
"History will not let Audubon off so easily, but I am heartened by a recent book that strikes me as a model for living with this difficult figure, and for showing us who we are in relation to him. Audubon at Sea . . . brings us the artist's writing about and drawings of seabirds along with an introduction, essay, and many wide-ranging and revelatory notes that supply a richer history of the man and his time than most biographies."
— Magazine Antiques
"Irmscher and King, hailing respectively from the disciplines of English and history, have compiled an anthology consisting of excerpts from Audubon's lesser-known published and unpublished writings related to water birds and seabirds. . . Overall, this work focuses on a lesser-known aspect of Audubon's life and will be a welcome addition to natural history collections."
— Choice
 "Bibliography is alive and well. The physical book is a living tutorial on book production. For devotees of the Chicago Manual of Style, it is like coming home. What you see is what you get, but the sum is greater than the parts: the team at the press have produced a masterpiece of communication. As a physical work it is, as expected, being from the University of Chicago Press, a wonderful piece of work that both communicates and is a pleasure to read. Often 'Acknowledgements' are rote, but these seem, though tucked away modestly at the back, to be heartfelt and evidence of the wide array of talents employed to create a fine work. Two indices, ornithological and general, make navigation simple. The major published works described are also a bibliographic feast: a 'double elephant' folio presumably for the earlier Ornithological Biography and more the 'egalitarian' Royal Octavo of Birds of America."
— Northern Mariner
"The editors and authors of Audubon at Sea, by carefully editing and selecting certain materials, create a more complex image of the bird artist. This book will likely change forever how you think about John James Audubon."
— Mark Lynch
"A must have for those with an interest in Audubon and/or marine ornithology history."
— Birdbooker Report
"Avoiding relativism, Irmscher and King point out that Audubon was an imperfect man—he knew it, as did his family and friends—and that he was troubled by his role in the decimation of birds and beasts. They also observe that as members of a global community responsible for environmental destruction on a grand scale, current critics should probably exercise a modicum of self-awareness. Their appeal is worth considering. Given our collective complicity in the havoc wrought by more than half a century of plastic (and other) pollution, and our complicity as consumers of goods produced by exploitative labor systems, we might resist the sanctimonious impulse. The authors do not suggest abandoning critical analysis; rather, they gently point out that there is a difference between penetrating and insightful enquiry and moralizing. Their challenge is a worthy one."
— Isis
"Irmscher and King the challenges posed by Audubon's legacy, his corruption of the truth about his background and family life, and that he came from a slave-benefitting family. Audubon lived during an era when there were different values, and killing birds was common. He shot and killed countless birds for his drawings, but also witnessed poachers whose 'great object is to plunder every nest, wherever they can find it, no matter where, and whatever risk.' This work of scholarship gives us a deeper understanding of a brilliant and difficult man that Irmscher describes as 'passionate, outrageous, salty, vain, and brutal, despondent, vulnerable, sentimental, self-ironical, and tender.' This is a book that all ornithologists will enjoy: it is a good read, and a book to dip into to enjoy the illustrations, prose, and analysis. It is essential for aficionados of Audubon and will also be of value to those interested in wildlife art and the history of ornithology."
— Ibis
"Drawn directly from Audubon's writings, Audubon at Sea captures the essence of the man. . . . Audubon delights in telling stories of not only the wildlife, but the people he encountered on his many journeys. We meet eggers, wreckers, turtlers, cod fishers, revenue cutter sailors, lighthouse keepers, and even a pirate, though the story he spins about him may have been pulled directly from a popular pamphlet recently published. Audubon was, if nothing else, a salesman extraordinaire."
— Sea History
"Excellent. . . . Audubon at Sea provides new insight into three overlooked but important aspects of Audubon's legacy. First, readers will see how his waterbird writing evolved from imperfect to polished and became highly readable. Audubon is best known for his art, but his later lyrical prose beautifully complements his art. Second, Audubon at Sea shines new light on Audubon's descriptions of seabird habitat and through this book, his waterbird art receives new attention even though most waterbirds live in places that few visit. This is increasingly important since many seabird populations are declining from human-caused assaults. This book is a significant overview of Audubon's legacy as a great artist, writer, and adventurer."
— Stephen W. Kress, founder, Project Puffin
"These excellent selections are a wonderful reminder of why Audubon's writing deserves to be more widely read. Audubon at Sea is a delightful, captivating book, one that ranges to different regions and seasons, and features not only birds but fish, marine mammals, and many passages of interest concerning fishing, hunting, and collecting practices. Irmscher and King's expertise is impressive, and their introductions are helpful, informative, and beautifully written. The notes are also truly remarkable: extremely well-informed, instructive, and detailed. This is a superb read."
— Michael P. Branch, professor of literature and the environment, University of Nevada, Reno, author of "On the Trail of the Jackalope"
"A must-read for lovers of the sea and of avian species plying its waters and gracing its shores—this timely, eloquent collaboration between an Audubon scholar and a noted writer on the sea is a plea to save not only birds and their habitats but also wildlife and planet Earth. In Audubon at Sea, Irmscher and King offer a fascinating porthole to a new perspective on the brilliant artist-naturalist and nature writer as well as his portrayals of waterbirds. Reconsidering Audubon's triumphs and human failings with novel insights, the book celebrates the waterbirds of his Birds of America against a historical maritime and scientific backdrop. In the process, it makes a significant contribution to Audubon studies and underlines, beyond the so-called fallacy of the inexhaustible, the acute loss in biodiversity that threatens the extinction of avifauna."
— Roberta J. M. Olson, curator and author of numerous books, including "Audubon's Aviary: The Original Watercolors for 'The Birds of America'" and two forthcoming on the artist-naturalist
"Audubon at Sea shines a bright light on, and makes visible, three overlooked but significant aspects of Audubon's work and legacy: his writings on waterbirds as they evolved from imperfect to polished and lyrical prose; his seabird drawings, like the unforgettable 'Gannet'; and a new focus especially on the seabirds that are now in peril even if they remain out of our sight. The book adds a significant new chapter in our understanding and appreciation of Audubon as an imperfect and troubled nineteenth-century polymath—an artist, ornithologist, writer. Audubon's work will live on in new debates and conversations, in which Audubon at Sea will play an important role."
— Subhankar Banerjee, from the foreword