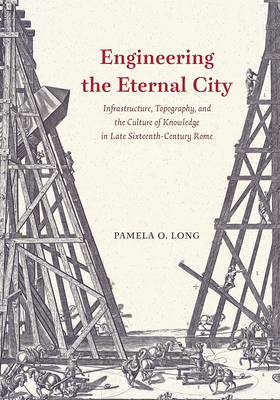 Engineering the Eternal City: Infrastructure, Topography, and the Culture of Knowledge in Late Sixteenth-Century Rome
Publication Date:
November 20th, 2018
Publisher:
University of Chicago Press
The MIT Press Bookstore
1 on hand, as of Dec 5 4:07pm
(AH)
On Our Shelves Now
Description
Between the catastrophic flood of the Tiber River in 1557 and the death of the "engineering pope" Sixtus V in 1590, the city of Rome was transformed by intense activity involving building construction and engineering projects of all kinds. Using hundreds of archival documents and primary sources, Engineering the Eternal City explores the processes and people involved in these infrastructure projects—sewers, bridge repair, flood prevention, aqueduct construction, the building of new, straight streets, and even the relocation of immensely heavy ancient Egyptian obelisks that Roman emperors had carried to the city centuries before.
 
This portrait of an early modern Rome examines the many conflicts, failures, and successes that shaped the city, as decision-makers tried to control not only Rome's structures and infrastructures but also the people who lived there. Taking up visual images of the city created during the same period—most importantly in maps and urban representations, this book shows how in a time before the development of modern professionalism and modern bureaucracies, there was far more wide-ranging conversation among people of various backgrounds on issues of engineering and infrastructure than there is in our own times. Physicians, civic leaders, jurists, cardinals, popes, and clerics engaged with painters, sculptors, architects, printers, and other practitioners as they discussed, argued, and completed the projects that remade Rome.
Praise for Engineering the Eternal City: Infrastructure, Topography, and the Culture of Knowledge in Late Sixteenth-Century Rome
Winner
— 2019 Sidney Edelstein Prize, Society for the History of Technology
Winner
— 2020 Spiro Kostof Book Award, Society of Architectural Historians
"In this sparkling scholarly treatise, historian Pamela Long reveals how tottering infrastructure, ancient ruins and the flood-prone river Tiber were tamed by four successive popes with bold plans for the urban fabric. Drawing on a trove of archival maps and plans, Long charts the making and remaking of squares, aqueducts, sewers, streets and bridges."
— Nature
"[An] ambitious and protean cast of characters populat[es] Pamela O. Long's Engineering the Eternal City. . . . Long's book is meticulously researched and beautifully illustrated, and it features extensive and thorough endnotes, which will not come as a surprise to anyone familiar with her previous work. Her tight focus in space and time allows for deep and detailed exploration of her various case studies. The eight chapters are nicely woven together, with common themes, projects, and personalities appearing throughout . . . . The book will be of interest to those who study the history of architecture, science, technology, cartography, antiquarianism, and the Italian Renaissance in general."
— Journal of the Society of Architectural Historians
"Long's book is a must read for anyone interested in the genesis of Early Modern Rome, and in the practice of infrastructural engineering in the late Renaissance. It is an important treatise for understanding the complexity of this field of knowledge before the creation of specific curricula for architects and engineers."
— Nuncius
"Long has written the first full-scale history of Henry Piers's Rome. Engineering the Eternal City tells the story of the streets and squares, churches and palaces that astonished, and sometimes disgusted, Martin and Montaigne, Munday and Piers. Long identifies their builders and teases out the complex, tangled forms of papal will, administrative mess and technical know-how that brought them into being. Her task has been neither easy nor simple. The evidence for each segment of the story is scattered: books and manuscripts, prints and maps describing projects, successful and unsuccessful; and documents in Roman archives and libraries, as tricky to navigate as they are rich in material, explaining where the money came from, how decisions were made and how they actually turned out. Many scholars have investigated individual parts of the story, but Long has examined all of this disparate material and forced it to yield a riveting history. . . . This story has been told before, by Fontana himself and many others. But Long retells it with her customary precision and sense of drama, and adds granular details from the printed and archival sources that no other modern scholar has noticed."
— London Review of Books
"Long's approach reveals much about urban history because she works outside the usual disciplinary boundaries. . . . [Her] thesis in this book and her previous
works forces scholars to rethink the very origins of science as an endeavor that first thrived outside of the universities, academies, and scientific societies. To make her case about the power of interpersonal interactions, Long's brilliant research allows her to populate her book with fascinating stories."
— Journal of Interdisciplinary History
"In this exhaustively researched and beautifully illustrated book, Pamela O. Long presents a fascinating account of engineering initiatives in Rome in the second half of the sixteenth century. . . . From sewers below to obelisks above, Long's book brings to life the physical city of Rome and its engineering challenges, which, she concedes, were not all fully met. The range of primary and archival sources is enormous, bringing to light evidence from, for instance, newsletters (avvisi) on flooding and
the aqueducts, grants of water rights to individuals, and minutes of the Congregation of Streets, Bridges, and Fountains. . . . Engineering the Eternal City offers a wonderfully fine-grained portrait of the practice, institutional foundations, and antiquarian implications of engineering in early modern Rome."
— Isis: a Journal of the History of Science Society
"Fastidiously researched. . . . Long avoids a common teleological pitfall in the history of technology and science: the tendency only to narrate revolutionary inventions and physically realized projects. . . . A profoundly readable account of bureaucratic organizations. . . . Long makes the important and often overlooked point that distinctions between what we would call engineering and architectural design—in both material and theoretical realms—were far more slippery in the late sixteenth century than they are today. Scholars will find that in the depth and breadth of projects Long covers, she has made a lasting contribution to the study of sixteenth-century Rome."
— Journal of Architectural Education
"Even Romanists who know the city can still learn from the industrial-strength notes that trace the bibliographical records back to the oldest possible sources. The narrative is swift and the cast of characters colourful, but it is in the author's insistence that engineering deserves a social and humanist history that the book will leave a permanent mark."
— Joseph Connors
"Pamela Long's wonderful book brings the reader into the streets and squares of late Renaissance Rome and recreates the lost cultures of knowledge and practice that took shape there. She shows in vivid detail how scholars and engineers, artists, and prelates struggled to recreate ancient Rome and rebuild the infrastructure of the modern city."
— Anthony T. Grafton, Princeton University
"A fascinating study of the forces, institutions and figures that shaped Rome's basic functioning and rapid development across three active decades, from the disastrous Tiber River flood of 1557 to the death of the builder/planner pope Sixtus V in 1590. To give a holistic picture, Long deftly interweaves the histories of science, technology, cartography, engineering, architecture and urbanism. . . . Long's straightforward and accessible prose belies the depth and breadth of her learning. She has combed a treasure trove of archival material to weave her story. . . . Beyond just a history of what happened when and how, Engineering the Eternal City becomes a subtle and revealing exploration of how various groups and individuals thought about and approached urban problems. It is as much a portrait of the collective 'culture of knowledge' created by overlapping circles of engineers, architects, antiquarians and printers as it is of the city to which they dedicated their efforts. . . . What emerges in Long's important book is a picture not just of urban improvement as process, but of the city itself as process, ever in flux."
— Imago Mundi
"In Engineering the Eternal City, Pamela Long recaptures the energy and efflorescence of the Eternal City in the late sixteenth century, when Rome appeared to many visitors to be a vast and never-ending construction site. During these crucial decades after the Sack of Rome popes, architects, engineers, physicians, antiquarians, humanists, and city officials devised numerous solutions to the problems of repairing an ancient city as part of making an early modern city a magnificent expression of Rome's unique legacy as the heart of an ancient empire renewed by faith. Readers who love this city and want to learn more about it will enjoy this book."
— Paula Findlen, Stanford University
"Engineering the Eternal City is a very readable account of three dynamic decades in Rome's material and intellectual history, which resists a teleological narrative of the city's urbanistic success, on the one hand, while illustrating the benefits of a multidisciplinary approach on the other."
— Renaissance Quarterly
"[Engineering the Eternal City] offer[s] inspiring insights and new approaches that help [re-shape] the field of urban history of science, technology, and medicine."
— NTM Journal of the History of Science, Technology and Medicine
"[Engineering the Eternal City] is a distinguished and perceptive recounting of what it took to bring about lasting change in an early-modern city. . . . [an] impressive accomplishment. . . . Engineering the Eternal City is likely to set the standard for any future treatment of Renaissance Rome."
— Technology and Culture